The Oakland Sail 1985-09-09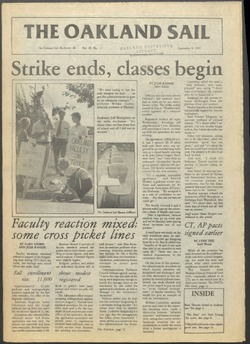 Author
---
Contributor
---
Lucius, Jill
Kahler, Julie
Calabrese, Regina
Heller, Bruce
LeMieux, Sharon
Naqvi, Hasan
Hooper, Anne
Teel, Lynn
Biondi, Paul
Briggs-Bunting, Jane
Bardy, Maria
Beadle, Cathy
Brozowski, Michele
Jones, K. J.
Jones, Scott
Jordan, Mike
Kocis, Maryanne
Thomas, M.A.
Adkins, Bud
Andreski, Jeanine
King, Barb
Molnar, Gary
Smith, Kathy
Description
---
Strike ends; classes begin ; Faculty reaction mixed; some cross picket lines ; Fall enrollment shows modest rise; 11,600 registered ; CT; AP pacts signed earlier ; EDITORIAL: University faculty in no-win situation ; Letters to the Editor: Student upset by faculty strike ; Postscripts: Top newspapers nixed? ; Barn's future may be dark ; Run for fun: Apple Amble ; Sensations to open ; Teaching ; Student enjoys travel abroad: summer visit to Europe recalled ; Arts at noon series to begin this week ; FEATURES: September upset noted on campus ; "The Boss" charms all ; Young entertains audience at Meadow Brook Festival ; Vega; Talking Heads reviewed ; University offers a variety of fall theatre enjoyment ; Pick Wick sees change ; Upcoming fall films ; SPORTS: Soccer kicks off season; high hopes for nationals ; Volleyball veterans return for fall ; Tennis team needs players for season ; Lions' opener ; Fall aerobics coed program slated to start ; Wrestlers to meet Wed. at Lepley ; Kids play it safe camp with Isiah ; collegiate camouflage ; EDITORIAL: Future of the barn: does anybody care?
Date
---
1985-09-09
Subject
---
Faculty strikes
AAUP contracts
Contract negotiations
Unions
Enrollment
Oakland Center
Rights
---
Users assume all responsibility for questions of copyright, invasion of privacy, and rights of publicity that may arise in using reproductions from the library's collections.
Collections
---