The Oakland Sail 1982-09-27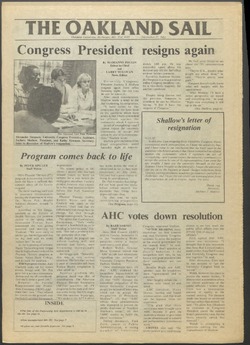 Author
---
Contributor
---
Poulin, Marianne
Sullivan, Larry
Briggs-Bunting, Jane
Vandenhemel, Dan
Primeau, Tom
Troy, Colleen
Vernon, Jeff
Conte, Joseph
George, David
Hall, Caryn
Andrews, Cheryl
Biondi, Paul
Boileau, R.M.
Brudzinski, Steve
Hasspacher, Deana
Howes, Barbara
Kahler, Julie
Lewis, Scott
Malik, Liesa
Matlera, Maria
Mauser, Jean
Mooty, Cindy
Schwartz, Carol
Serafini, Jerry
Sornig, Barb
Spiller, Peter
del Valle, Robert
Dean, Dan
Hoffman, John
Knoska, Emil Robert (Bob)
Verdoni, Klara E.
Description
---
Congress President resigns again ; Shallow's letter of resignation ; Program comes back to life ; AHC votes down resolution ; Arab students affected by massacres ; Two sides to recent financial aid disputes ; Sympathy vs. anger over theft incident ; EDITORIAL: Plan backfires; ends in resignation ; Correction ; Congress' decision ; Question of support and Congress' ideals ; Senior needs campus job ; Students respond to bookstore incident: Shoplifting a crime ; Shoplifting results in a slap on the wrist ; Records should be private ; 'An insult' ; Kappa Alpha Psi member backs Shallow; applauds Congress' vote ; CAMPUS LIVING - ARTS ; Attraction of video apparent here ; New snack hits campus ; OU students offered fruits of many nations ; OPEN SPACE: New hope for maniacs ; Kappas help kids learn ; SPORTS: OU wins with Christian ; Runners start slow ; Sneakers; a child's first love ; Pioneers beat a tough Henry Ford team ; Oakland and Indiana State end Classic in a double overtime tie ; Program's fate unknown
Date
---
1982-09-27
Subject
---
Oakland University. Student Congress
Physical therapy program
Area Hall Council
Oakland University. Financial Aid
Rights
---
Users assume all responsibility for questions of copyright, invasion of privacy, and rights of publicity that may arise in using reproductions from the library's collections.
Collections
---