The Oakland Post 2013-04-17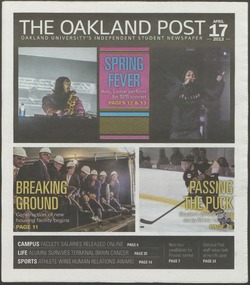 Author
---
Contributor
---
Seguin, Nichole
LaTorre, Clare
Popovski, Natalie
Beaver, Lindsay
Sokol, Stephanie
Coughlin, Shannon
Johnston, Brian
Figurski, Brian
Kotwicki, Haley
Petrykowski, Andrew
Smith, Amelia
Miner, Deleon
Coppola, Lisa
Lepper, Kelsey
Williams, Blake
Holychuk, Jennifer
Murray, Brian
Dulberg, Dylan
Lepkowski, Frank J.
Lee, Lex
Mathias, Kailee
Reed, Jordan
Graham, Kevin
Horan, Mike
Ibrahim, Irum
Jordan, Allen
Phelan, Katie
Reid, Lilly
Williams, Katie
Brooks, Bobby
Davis, Jon
Mohler, Ashley
Novak, Monica
Peralta, Chris
Description
---
Spring Fever ; Breaking Ground ; Passing the Puck ; Perspectives STAFF EDITORIAL Seniors: Be prepared for commencement changes ; Campus Making sense of dollars: Crunching the numbers behind Oakland University ; CAMPUS ONLINE ; Campus Pushing forward: Provost Committee narrows down final four candidates ; Campus First Anatomy Memorial Ceremony held on campus ; Campus Putting on a show: The Gay Straight Alliance hosts the 10th Annual Drag Show ; Campus A coming-of-age tale ; Fiction writer Alison Espach visits campus ; Campus Breaking and building: University holds ground breaking ceremony for new residence hall ; POLICE: GOOD KID; GRIZZ CITY ; Sports BREAKING THE MOLD ; Sports moving up in the ranks: Sophomore defenseman signs contract with ECHL ; Sports THE SPORTING BLITZ ; Local Summer at the Detroit Zoo: Events for family and friends alike ; Local Summer construction Project: Road projects set to begin throughout Metro Detroit this summer; detours planned ; Local Teacher's Pets build bonds ; Program provides at-risk teens a second chance working with animals ; Life 'Just a MINOR thing': Alum defies all odds and overcomes brain cancer - declared medical miracle ; Life Student and local rapper Drew32 talks new mixtape; MTV ; Quick Facts ; WEEKLY PUZZLES ; Mouthing Off I'VE scene it: And I'm not afraid to admit it
Date
---
2013-04-17
Subject
---
Oakland University. Office of the Provost
Anatomy
Memorials
Gay Straight Alliance
Residence halls
Ground breaking
Oakland University. Student Organizations. Student Program Board
Animal-assisted therapy
Cancer
Rights
---
Users assume all responsibility for questions of copyright, invasion of privacy, and rights of publicity that may arise in using reproductions from the library's collections.
Collections
---