The Oakland Sail 1979-01-25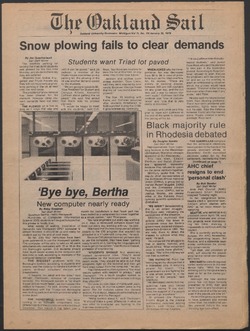 Author
---
Contributor
---
Clausen, Mark
Spears, John F.
O'Grady, Robin
Alderman, Stuart
Mitchell, Carla
Dunstan, Jay
DeGeorge, Gail
Briggs-Bunting, Jane
Trumper, Marilyn S.
Bakshi, Sheba
D'Haene, Elise
Fortier, Daryl C.
Lenart, Susan
Marshall, David
Moorhead, Ree
McGerty, Maureen
Quackenbush, Joseph
Robinson, Dave
Barnard, Timothy
Hatfield, Daniel
Van Meter, Chris
Ouellette, Chris
Redfield, Robert
Stein, David
Truman, Mark
Description
---
Snow plowing fails to clear demands: Students want Triad lot paved ; 'Bye bye Bertha: New computer nearly ready ; Black majority rule in Rhodesia debated ; AHC chief resigns to end 'personal clash' ; SIDELINE White males still rank first as executives ; The Marshall Arts ; Congress' choice disputed CLB criticizes appointments ; Letter: Sail editorial blasted ; GHC advises vaccinations for measles ; OU says 'nay' to horses in stables: O'Dowd holding out for the right program ; Students Speak Out: Do you feel snow removal at OU has been efficient this winter? ; Performer touches growth of women ; Band puts on show without rock antics ; 'Rainbows' color walls of Art Gallery ; Brauer highlights loss to Grand Valley ; Grapplers face Lakers Coach Hasse confident ; Women collapse in final half ; ROCK'S KORNER: Who has the 'fuzz'? ; Pistons blanked in All-Star balloting ; OU's yearbook to return for first time in decade ; For the record ; collegiate crossword: Sponsored by The Bookcenter and CIPO
Date
---
1979-01-25
Subject
---
Snow removal
Computer systems
Area Hall Council
Meadow Brook stables
Oakland University Art Gallery
Yearbook
Rights
---
Users assume all responsibility for questions of copyright, invasion of privacy, and rights of publicity that may arise in using reproductions from the library's collections.
Collections
---