The Oakland Sail 1978-11-13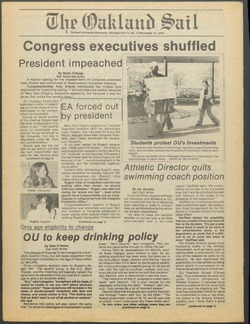 Author
---
Contributor
---
Clausen, Mark
Foley, Philip
Morrison, Pat
Alderman, Stuart
Spears, John F.
O'Grady, Robin
Briggs-Bunting, Jane
Bakshi, Sheba
Burkli-Bery, Christine A.
Czeizler, Shelly F.
Derrick, Scott
D'Haene, Elise
DeGeorge, Gail
Dunstan, Jay
Fortier, Daryl C.
Ginsell, Suzie
Henderson, Dick
Katz, Stephen
Lenart, Susan
Marshall, David
Moorhead, Ree
McGerty, Maureen
Quackenbush, Joseph
Runkle, Dana
Robinson, Dave
Sugar, Eric
Tupper, Darcy
Trumper, Marilyn S.
Wilhelm, Kurt
Description
---
Congress executives shuffled: President impeached ; EA forced out by president ; Students protest Oil's Investments ; Athletic Director quits swimming coach position ; Only age eligibility to change OU to keep drinking policy ; Ma Bell plans to charge for information Let your fingers do the walking before dialing ; Student escapes abduction attempt ; Computer shortens research time ; Building lofts will take more than just wood and energy ; The Marshall Arts ; Sail Editorial Presidential candidate likeable but ; Letters from our readers: Student harassed for 'racism' ; Mum's the word ; SAGA responds ; Students Speak Out: What Does University Congress Do? ; Political Science Prof does jury research ; CAMPUS PROFILE ; Something else ; Sail Review: Top OU show Starts here; now ; Dracula a sell out in more ways than one ; MBT's latest a real champion ; 1978-79 University Congress Elections Edition ; Mary Sue Rogers ; Bob Knoska ; Bruce Babcock ; Michael McClory ; Paul Grossman ; 1978-79 Congress Elections Edition ; Eye best season in four years Young grapplers strong at each position ; Field goal In closing moments lifts Jaws over Douche for title ; Slashers; Jaws; Muffs roll ; Basketball Action ; Pro Sports Calendar ; Tankers place in relays ; Sports ; Booters close out year by losing to Bowling Green ; MOVIN' OUT A Guide to Off-Campus Events ; Concerts ; Art ; Theatre ; Misc ; Students keep in shape One - two - three
Date
---
1978-11-13
Subject
---
Oakland University. Student Congress
Athletics
Alcohol policy
Kresge Library
Rights
---
Users assume all responsibility for questions of copyright, invasion of privacy, and rights of publicity that may arise in using reproductions from the library's collections.
Collections
---