The Oakland Sail 1978-10-02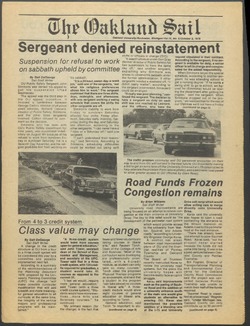 Author
---
Contributor
---
Clausen, Mark
Foley, Philip
Morrison, Pat
Alderman, Stuart
Spears, John
Ross, Dave
Briggs-Bunting, Jane
Burkli-Bery, Christine A.
Calabro, Rose
Chlipala, Elizabeth
Czeizler, Shelly F.
Caligiuri, Mark
Derrick, Scott
DeFrancesco, Brian
D'Haene, Elise
DeGeorge, Gail
Dunstan, Jay
Fortier, Daryl C.
Gauthier, Mark
Ginsell, Suzie
Hoste, Bill
Henderson, Dick
Katz, Stephen
Kowalski, Diane
Lenart, Susan
Marshall, David
Moorhead, Ree
Mazzara, Nancy
McGerty, Maureen
Nietubyc, Renee
O'Grady, Robin
Oles, Stefanie
Pavia, Carolyn A.
Plaque, Michael J.
Quackenbush, Joseph
Runkle, Dana
Robinson, Dave
Sugar, Eric
Schelske, Don
Taylor, Janis Renee
Tupper, Darcy
Trumper, Marilyn S.
Williams, Brian A.
Whiting, Jo Ann
Wilhelm, Kurt
Description
---
Sergeant denied reinstatement: Suspension for refusal to work on sabbath upheld by committee ; From 4 to 3 credit system Class value may change ; Road Funds Frozen Congestion remains ; Residents can't get transportation off OU: Committee may be formed to seek solutions for transport problem ; Students petition for suspension reversal ; 'Come at your own risk - Health Sciences Dir. Students gambled on Phys Therapy - Lost ; Prof 'ducks' sleep ; 31 Groups get $10,500 from SAB ; Board meeting lacks quorum ; The Marshall Arts ; Editor's Opinion: Leisure before Religion? ; Students Speak Out: Do you support the referendum to raise the drinking age to 21? ; Sail Review: MBE Brings Life To OU ; collegiate crossword: Sponsored by The Bookcenter and CIPO ; CINEMA "Blood" has no guts ; Bad Muffs to defend IM football title ; OU links open for play ; OU spikers rebound with two road wins ; Netters Up Record To 9-0 ; OU Booters Stomp Toledo ; MOVIN' OUT: A guide to off-campus events ; Concerts ; Nightlife ; Film ; Theater ; Misc
Date
---
1978-10-02
Subject
---
Oakland University Police Department
Road construction
Credit system
Transportation
Physical therapy program
Rights
---
Users assume all responsibility for questions of copyright, invasion of privacy, and rights of publicity that may arise in using reproductions from the library's collections.
Collections
---