The Oakland Sail 1978-09-25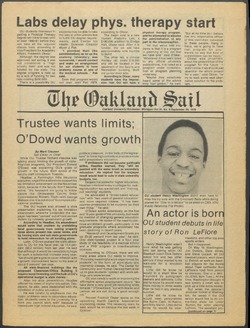 Author
---
Contributor
---
Clausen, Mark
Foley, Philip
Morrison, Pat
Alderman, Stuart
Spears, John
Ross, Dave
Briggs-Bunting, Jane
Burkli-Bery, Christine A.
Calabro, Rose
Chlipala, Elizabeth
Czeizler, Shelly F.
Caligiuri, Mark
Derrick, Scott
DeFrancesco, Brian
D'Haene, Elise
DeGeorge, Gail
Fortier, Daryl C.
Gauthier, Mark
Ginsell, Suzie
Hoste, Bill
Henderson, Dick
Katz, Stephen
Kowalski, Diane
Lenart, Susan
Marshall, David
Moorhead, Ree
Mazzara, Nancy
McGerty, Maureen
Nietubyc, Renee
Oles, Stefanie
Pavia, Carolyn A.
Plaque, Michael J.
Runkle, Dana
Robinson, Dave
Sugar, Eric
Schelske, Don
Taylor, Janis Renee
Tupper, Darcy
Trumper, Marilyn S.
Williams, Brian A.
Wilhelm, Kurt
Whiting, Jo Ann
Description
---
Labs delay phys. therapy start ; Trustee wants limits; O'Dowd wants growth ; An actor is born: OU student debuts in life story of Ron LeFlore ; 50% of victims know assailants; Suggestions to avoid rape ; Black studies prof. discusses integration ; New building will have fall groundbreaking ; Candidate's wife campaigns ; Budget director explains fee hikes ; The Marshall Arts ; Feedback: 'Agape' review is 'vindictive' ; Strong objection to AHC editorial ; Editor's comment called 'off base' ; Faces in the Crowd ; Students Speak Out: Trustee Richard Headlee has said that high school doesn't adequately prepare students for college. Do you think your high school prepared you? ; CINEMA ; Sail Review: Brel is 'alive' better than 'well'; and at OU ; Jazz director: 'Doc' of jazz ; Congress fills vacant seats ; AHC attacks Sail editorial ; 7 Netters combine to oust foes ; Volleyball underway; Coach is optimistic ; Booters tie Spring Arbor ; Sports Briefs ; OU '9' breeze ; MOVIN' OUT: A guide to off-campus events ; Concerts ; Nightlife ; Film ; Theater ; Misc ; OU off-guard
Date
---
1978-09-25
Subject
---
Physical therapy program
African American students
Construction
Holladay, Marvin
Rights
---
Users assume all responsibility for questions of copyright, invasion of privacy, and rights of publicity that may arise in using reproductions from the library's collections.
Collections
---