The Oakland Sail 1986-11-24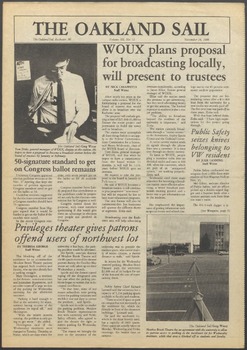 Author
---
Contributor
---
Teel, Lynn
Hooper, Anne
Wendland, Wendy
Raible, Robert
Banks, Peter
Pratt, Mike
Basch, Jeff
Kaza, Catherine
Fuoco, Christina
Briggs-Bunting, Jane
Anstett, Matt
Auchter, Hans Peter
Browning, Sidney
Chiappetta, Nick
Drake, Bobbie
Dyke, Tim
Echtinaw, Ralph
Falvo, Jim
Fitch, Anita
Gehts, Kathryn
George, Theresa
Hagerstrom, Holli
Heiney, John
Johnson, Michael
Jordan, Mike
Kerchoff, Kim
Lanning, Julie
Lopez, David
Marine, Tim
Meikle, Chris
Moraniec, Marc
Nass, Alisa
O'Brien, Daniel
Pagnani, Stephen
Phillips, Renate
Rosenberg, Flori
Serra, Grace
Uicker, Jim
Waters, Robert T.
Bully, Dan
Fishwild, Tom
Kaveloski, Kim
Kurtycz, Eric
Lewis, Gary
Malouin, Jules
Pratt, Mike
Williams, Joel
Winay, Greg
Winkelbauer, Mark
Description
---
WOUX plans proposal for broadcasting locally; will present to trustees ; 50-signature standard to get on Congress ballot remains ; Public Safety seizes knives belonging to VW resident ; Privileges theater gives patrons offend users of northwest lot ; Little lasting effect of AIA; professors say ; Unpaid tickets cost more money ; Seminar to address effects of tax laws ; Public Safety hires new officer ; EDITORIAL: Group earns laughter when praise deserved ; Letters to the Editor: Administration problems for residence halls philosophical ; Computer registration well-organized; university must be deceiving students ; Letters to the Editor Policy ; FEATURES: Transsexuals share concerns; life stories ; Letters against torture: Write-a-thon success ; Dorm students voice complaints in survey ; Open Space: Student meets Peace Marchers in Washington D.C.; says enlightening experience ; History Club hosts speaker; advertises event in unique style ; Comedian keeps his jokes clean ; SPORTS: Soccer team slips by Gannon; bound for NCAA semi-finals ; College sports harder; say freshmen athletes ; Spartans sink Tankers at Lepley ; Lady Pioneers end year with rout of Soo Lakers; take 5th place in league ; Commentary: If dogfighting is too cruel to be legalized; then so is boxing ; Ski team to meet ; Player-of-the- Week: Brian Fitzgerald
Date
---
1986-11-24
Subject
---
Oakland University. Student Organizations. WXOU
Parking
Meadow Brook Theatre
Accuracy in Academia
Transgender
Rights
---
Users assume all responsibility for questions of copyright, invasion of privacy, and rights of publicity that may arise in using reproductions from the library's collections.
Collections
---