The Oakland Sail 1986-01-13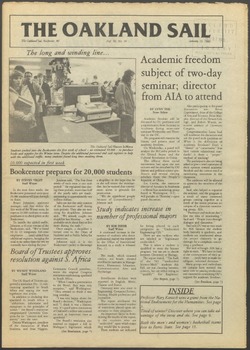 Author
---
Contributor
---
Lucius, Jill
Teel, Lynn
Hooper, Anne
Heller, Bruce
LeMieux, Sharon
Kaveloski, Kim
Diehr, Kim
Calabrese, Carla
Biondi, Paul
Meyers, Mark
Briggs-Bunting, Jane
Jones, Kenneth
Barone, Patrick
Brown, Carolyn
Chiappetta, Nick
Childs, Chip
Drake, Bobbie
Dyke, Tim
Jones, K. J.
Jordan, Mike
Kahler, Julie
Kaza, Catherine
Kocis, Maryanne
Marine, Tim
Nass, Alisa
Pokoj, Renee
Rosenberg, Flori
Schlaud, Brenda
Wendland, Wendy
Zrimec, Vicki
Andreski, Jeanine
Butzier, Pam
Easterly, Liz
Klope, Warren
Loznak, Robin
Molnar, Gary
Smith, Kathy
Ursu, Mike
Vetter, Tammy
Description
---
The long and winding line ; 10,000 expected in first week Bookcenter prepares for 20,000 students ; Board of Trustees approves resolution against S. Africa ; Study indicates increase in number of professional majors ; Academic freedom subject of two-day seminar; director from AIA to attend ; History professor receives National Endowment for Humanities award ; PCS office offers job-hunting seminars ; Report says headphone wearers are really lonely ; EDITORIAL: Carnival festivities are seldom noticed ; Letters to the Editor: Two alumni give three cheers for professor monitoring group ; All experience with SAGA food Coach clarifies SAGA statement ; ABS will pay tribute to Dr. Martin Luther King Jr. ; Public Safety has peaceful vacation without students ; Recruiting officers to hold interviews ; FEATURES: Coordinators hope for success Winter carnival to be held ; Beat the winter blues with skis ; New Year resolutions meaningless for some ; SPB offers winter film series ; Meadow Brook's' Angel Street' on target ; Student fantasizes campus subway system ; Relief offered for New Year's Eve hangover sufferers ; Nominations for outstanding AP's being accepted ; SPORTS: Ferris State cools off hot Pioneers 94-78 ; New year starts on down note for women cagers ; Howze assaults record books ; Michigan easily wins dual meet U-M too tough for Pioneers ; Trivia quiz ; TAKE A BREAK: THE GRUMPS Get a DIVORCE! ; THE UP SIDE OF EXPLICIT ROCK LYRICS
Date
---
1986-01-13
Subject
---
Oakland University. Bookstore
South Africa
Oakland University. Board of Trustees
Karasch, Mary
Martin Luther King Jr. Day observance
Winter Carnival
Rights
---
Users assume all responsibility for questions of copyright, invasion of privacy, and rights of publicity that may arise in using reproductions from the library's collections.
Collections
---