The Oakland Sail 1985-11-11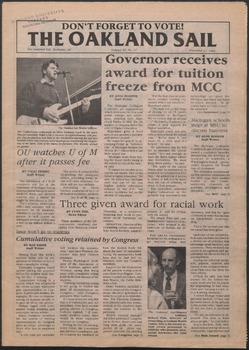 Author
---
Contributor
---
Lucius, Jill
Calabrese, Regina
Heller, Bruce
LeMieux, Sharon
Naqvi, Hasan
Hooper, Anne
Teel, Lynn
Biondi, Paul
Briggs-Bunting, Jane
Jones, Kenneth
Perera, Kishan
Atkins, Bud
Bardy, Maria
Barone, Patrick
Brown, Carolyn
Brozowski, Michele
Burden, Russell
Chiappetta, Nick
Childs, Chip
Diehr, Kim
Dyke, Tim
Jones, K. J.
Jordan, Mike
Kaza, Catherine
Kocis, Maryanne
Marine, Tim
Nass, Alisa
Rautio, Sarah
Rosenberg, Flori
Schlaud, Brenda
Tecker, Michele
Thomas, M.A.
Wendland, Wendy
Adkins, Bud
Andreski, Jeanine
Butzier, Pam
Easterly, Liz
Kaveloski, Kim
King, Barb
Klope, Warren
Loznak, Robin
Meyers, Mark
Molnar, Gary
Newton, Paul
Smith, Kathy
Ursu, Mike
Description
---
Governor receives award for tuition freeze from MCC ; Michigan schools meet at MSU to discuss business ; OU watches U of M after it passes fee ; Three given award for racial work ; Issue won't go to students ; Cumulative voting retained by Congress ; Second Oakland professor reported to group in D.C. ; Views from the presidential candidates: TONY BOGANEY; THREE MAJOR GOALS ; How Congress voted ; EDITORIALS: Candidates ineffective; Write-in best bet in congress race ; Voting issue squelched for the wrong reasons ; Letters to the Editor: Academia issue upsets university population; Academic freedom vital ; Accuracy in Academia biased ; Candidates for Congress Representative: Sean M. Higgins ; Congress Presidential Candidates: Tony Boganey ; John Farr ; OPEN SPACE ; Kurt Schultz ; Elaine Mitri ; Lisa Stamps ; FEATURES: Play and actors shine ; Organization wants new warning labels on albums ; Just when you thought it was safe ; 'Miami Vice' popular with students; tops' rating charts ; Vendors; seminars come to campus ; History of Meadow Brook Hall ; Grading rules to change ; SPORTS: Pioneers beat Wright State; seeking bid ; Dropped in league tourney seeding Spikers reach Can-Am semifinals ; Christian a leader on the soccer field ; Men's swim team fares well at BG ; Soccer club ends season with win ; Sports trivia ; Grapplers split meets with York ; Pioneers struggle in meet
Date
---
1985-11-11
Subject
---
Oakland University. Student Congress
Academic freedom
Meadow Brook Theatre
Meadow Brook Hall
Wilson, Matilda Rausch Dodge, 1883-1967
Rights
---
Users assume all responsibility for questions of copyright, invasion of privacy, and rights of publicity that may arise in using reproductions from the library's collections.
Collections
---