The Oakland Sail 1985-10-28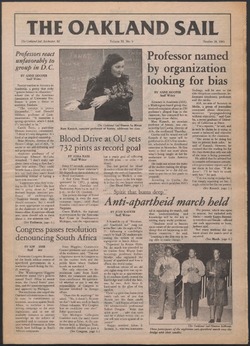 Author
---
Contributor
---
Lucius, Jill
Calabrese, Regina
Heller, Bruce
LeMieux, Sharon
Naqvi, Hasan
Hooper, Anne
Teel, Lynn
Biondi, Paul
Briggs-Bunting, Jane
Jones, Kenneth
Perera, Kishan
Bardy, Maria
Barone, Patrick
Brown, Carolyn
Brozowski, Michele
Burden, Russell
Chiappetta, Nick
Childs, Chip
Diehr, Kim
Dyke, Tim
Jones, K. J.
Jones, Scott
Jordan, Mike
Kaza, Catherine
Kocis, Maryanne
Nass, Alisa
Rautio, Sarah
Regina, Lynne
Rosenberg, Flori
Schlaud, Brenda
Tecker, Michele
Thomas, M.A.
Wendland, Wendy
Adkins, Bud
Andreski, Jeanine
Butzier, Pam
Easterly, Liz
Kaveloski, Kim
King, Barb
Klope, Warren
Loznak, Robin
Meyers, Mark
Molnar, Gary
Newton, Paul
Smith, Kathy
Ursu, Mike
Description
---
Professors react unfavorably to group in D. C. ; Blood Drive at OU sets 732 pints as record goal ; Professor named by organization looking for bias ; Congress passes resolution denouncing South Africa ; "Spirit that burns deep" Anti-apartheid march held ; EDITORIAL: Students shouldn't expect convenience ; Letters to the Editor: Accuracy in Academia spurs angry controversy: 'Accuracy' activities attacked; Professor demands apology ; Errors found in bias story ; Article disturbs students ; MORE OPINIONS: More against group; Student satires group ; Support for monitoring group: Bias found in editorial ; Defense for organization ; Apartheid seminar informs audience about outrages of racist government ; FEATURES Barn Theater gets new chance at life ; Varner hosts world premiere Latin comedy launches season ; Students compete in Kappa pageant ; Hilberry fare misses mark ; Scholarship winners recognized at dinner ; Impressionist art lures community to Meadow Brook ; Sexually speaking: Dr. Ruth 's visit is a hot ticket ; SPORTS: Edge Akron in OT Pioneers net big win ; Spikers can claim title share with win ; Swim team easily wins season opener ; Finish a distant 7th Harriers fall in league meet ; Team splits matches ; Basketball team needs manager ; EEEEEEK! ; Goblins gather for Halloween fest
Date
---
1985-10-28
Subject
---
Academic freedom
Blood drives
South Africa
Student demonstrations
Rights
---
Users assume all responsibility for questions of copyright, invasion of privacy, and rights of publicity that may arise in using reproductions from the library's collections.
Collections
---