The Oakland Sail 1984-09-24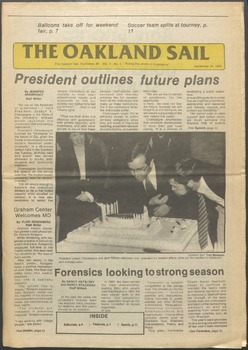 Author
---
Contributor
---
Conte, Joseph
Weathers, Cliff
Brudzinski, Steve
Lucius, Jill
LaBaere, Joellen M.
Burda, Bob
Davis, Kirk
Calabrese, Regina
Arkwright, Jennifer
Babcock, Lisa
Beadle, Cathy
Burden, Russell
Burke, Connie
Delaney, June
DeWolf, David
Ezmerlian, Beth
Guido, Anthony
Hatalsky, Nancy
Kocis, Maryanne
Martin, Marion
Niemi, Jane
Pore, Russell
Rosenberg, Flori
Vandenhemel, Dan
Ashley, Merrelyn
Freel, Jim
Goetz, Wendy
Hoffman, John
Knoska, Emil Robert (Bob)
LeMieux, Sharon
Moore, Belinda
Schoel, Andrea
Shurzinske, Randy
Call, David
Jordan, Mike
Kocis, Maryanne
McDaniel, Lauralyn
Description
---
President outlines future plans ; Graham Center Welcomes MD ; Forensics looking to strong season ; The Other Side of the Bridge ; Expansion plans underway ; EDITORIAL: Excellence for school not just a dream ; 'OUX offers alternative ; CAMPUS CRACKS ; Nickname change suggested ; Could voters abuse right? ; Wallace new assistant director ; CAMPUS LIVING: Balloons highlight Oakland skies ; OPEN SPACE: ID upsets student ; Student Organizations assemble in Crockery ; 25th Anniversary Festival offers high times ; Alumni offer enrichment ; Trivial Pursuers hold contest ; SPORTS: Local support brings tourney success ; Soccer kicks up steam in tourney of stars ; Teams see Spikers take charge ; Near wins keep Netters trying ; FROM THE SIDELINES: Does anyone ever read sports? ; Runners prepare for meets ahead ; Community college enrollment dips
Date
---
1984-09-24
Subject
---
25th Anniversary
Forensics
Kresge Library
Promotions
Alumni Association
Rights
---
Users assume all responsibility for questions of copyright, invasion of privacy, and rights of publicity that may arise in using reproductions from the library's collections.
Collections
---