The Oakland Sail 1984-03-12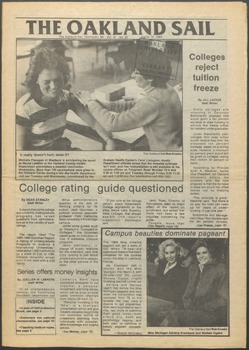 Author
---
Contributor
---
Troy, Colleen
Waters, Robert
Briggs-Bunting, Jane
Weathers, Cliff
Sleeman, Bill
King, Lorie
Conte, Joseph
George, David
Koblin, Michele
Ashley, Merrelyn
Arkwright, Jennifer
Bardy, Mia
Beadle, Cathy
Biondi, Paul
Brudzinski, Steve
Budry, Gary
Call, David
DiForte-Powers, Judy
Gill, Lori
Harrow, Sharon
Howell, Lynn
Jordan, Mike
LaBaere, Joellen M.
Lucius, Jill
O'Brien, Bill
Schlaud, Brenda
Simpson, Melody
Slaughter, Marquette
Stanley, Dean
Hoffman, John
Knoska, Emil Robert (Bob)
Howell, Lynn
Lignon, James
Manley, David
McQuiston, Dean
Schoel, Andrea
Shurzinske, Randy
Description
---
It really doesn't hurt; does It? ; College rating guide questioned ; Colleges reject tuition freeze ; Series offers money insights ; Campus beauties dominate pageant ; Radio station offers new look; new sound ; College-bound shun teaching; programs cut ; EDITORIAL: It's time to take teaching out of proverbial gutter ; Other Voices ; Meet the Editor ; CAMPUS LIVING - ARTS: Fiddler stays up despite flaws ; Beautiful but mysterious artworks from Haiti ; Fire up; OU! Where's the beach? Students take spirit to Florida ; Take a chance and study in Asia ; Racial incidents renew affirmative action ; Careers Day ; SPORTS: All-American honors adding up ; Men; women look toward possible Division II swimming championships ; Cliff's Notes: Frederick leaves confused ; First year only a start for coach ; Co-Athletes of the Week Faust; Enneking are rare talents ; Latest movies are good escapist art ; High Court rules: won't force Title IX ; English rockers sing jobless blues ; Birmingham starts mobile watch group ; National rankings ; State rankings ; Conference eyes national security ; Title IX: Do colleges discriminate on basis of gender today? A SHORT HISTORY OF TITLE IX'S COURT CASES ; Teaching
Date
---
1984-03-12
Subject
---
Measles
Miss Michigan
Oakland University. Student Organizations. WXOU
Elementary education
Art
Area Studies
Frederick, Lee
Title IX
Rights
---
Users assume all responsibility for questions of copyright, invasion of privacy, and rights of publicity that may arise in using reproductions from the library's collections.
Collections
---