The Oakland Sail 1983-10-24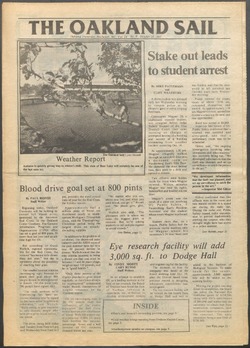 Author
---
Contributor
---
Troy, Colleen
Waters, Robert
Briggs-Bunting, Jane
Weathers, Cliff
Sleeman, Bill
King, Lorie
Conte, Joseph
George, David
Koblin, Michele
Ashley, Merrelyn
Brudzinski, Steve
Budry, Gary
Calabrese, Regina
DeWolf, David
Dillon, Kelley
Ezmerlian, Beth
Hall, Caryn
Hoffman, Angie
Joelson, J.L.
Jordan, Mike
Kahler, Julie
LaBaere, Joellen M.
Mooty, Cindy
Nowaczyk, Jill
Russo, Cary
Slaughter, Marquette
Teel, Lynn
Tetreault, Chris
Yolles, Elise
Born, Bryan
DeClaire, Tim
Knoska, Emil Robert (Bob)
Homant, Mike
Howell, Lynn
Kelly, Geraldine
Manley, David
Verville, Michael
Kennedy, Roberta
Mauser, Jean
Description
---
Weather Report ; Blood drive goal set at 800 pints ; Stake out leads to student arrest ; Eye research facility will add 3,000 sq. ft. to Dodge Hall ; Health Center warns: It's strep throat season ; The Human Eye ; Petition advocates nuclear awareness among faculty ; EDITORIAL: People making victims of selves ; Other Voices ; CAMPUS LIVING - ARTS R.O.T.C. students spend week end at Camp Grayling learning skills ; T.V. 2 anchor person says "be yourself" ; OU Greeks host 2nd annual Parents' Day ; Plant's latest sets him apart ; OPEN SPACE: History is O.K. ; Despite loss; soccer team shines ; SPORTS: V-ballers play impressively at Schoolcraft tournament ; Touch football brings out very spirited competition ; Harriers to finish low Mediocre season runs self down ; Future remains bright for tankers ; Congressman's son lecturing ; Excellence awards given by Trustees ; Sabrina Swine Trivia extravaganza ; More funding approved ; Swimmers step out One; two; three - kick; two; three
Date
---
1983-10-24
Subject
---
Arrests
Eye Research Institute
Dodge Hall
Arms race
ROTC
Budgets
Rights
---
Users assume all responsibility for questions of copyright, invasion of privacy, and rights of publicity that may arise in using reproductions from the library's collections.
Collections
---