The Oakland Sail 1983-09-19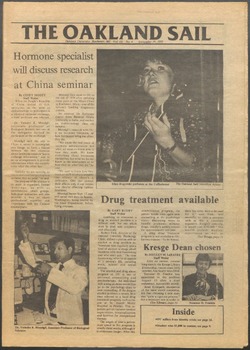 Author
---
Contributor
---
Troy, Colleen
Waters, Robert
Briggs-Bunting, Jane
Weathers, Cliff
Sleeman, Bill
King, Lorie
Conte, Joseph
George, David
Koblin, Michele
Ashley, Merrelyn
Brudzinski, Steve
Budry, Gary
Calabrese, Regina
DeWolf, David
Dillon, Kelley
Ezmerlian, Beth
Hall, Caryn
Hoffman, Angie
Joelson, J.L.
Jordan, Mike
Kahler, Julie
LaBaere, Joellen M.
Mooty, Cindy
Nowaczyk, Jill
Russo, Cary
Slaughter, Marquette
Teel, Lynn
Tetreault, Chris
Yolles, Elise
Born, Bryan
DeClaire, Tim
Knoska, Emil Robert (Bob)
Homant, Mike
Howell, Lynn
Kelly, Geraldine
Manley, David
Verville, Michael
Kennedy, Roberta
Mauser, Jean
Description
---
Hormone specialist will discuss research at China seminar ; Drug treatment available ; Kresge Dean chosen ; Freshman requirement: own personal computer ; EDITORIAL: Price too high for experience ; Other Voices: Is there a parking problem at OU? ; LETTERS: Dorm dwellers no dummies ; Black students' scores improving ; Ethics advocated ; Parking means problems ; CAMPUS LIVING - ARTS: Student dancer wins big on coast; brings back home prizes and gifts ; Break from summer routine Army life isn't so hard ; 'Bridegroom' a big success ; OPEN SPACE: "I like it here" ; D.I.A. focuses on 19th century art; and crafts ; Attention Pre-Professional Students ; need positions filled for O.I.S. ; Diversions CALENDAR ; University to drop 'Pioneers' ; SPORTS: Pioneers win second straight game ; V-ballers finish respectably at invite ; Intramural season opens ; Steroid controversy unfolds ; Harriers begin with new coach ; Women's tennis team starts on the comeback journey ; Delgado barred from play ; CLIFF'S NOTES: What's in a name? ; Two cagers represent country ; Come on out and see some real volleyball ; MBT offers discount tickets
Date
---
1983-09-19
Subject
---
Kresge Library
Drug abuse program
Frankie, Suzanne O.
Moudgil, Virinder K.
Computers
Parking
Name changes
Steroids
Rights
---
Users assume all responsibility for questions of copyright, invasion of privacy, and rights of publicity that may arise in using reproductions from the library's collections.
Collections
---