The Oakland Sail 1983-02-14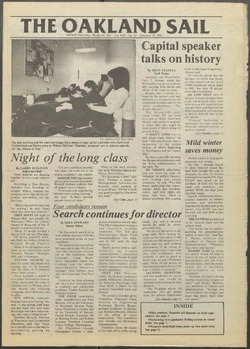 Author
---
Contributor
---
Sullivan, Larry
Briggs-Bunting, Jane
Mooty, Cindy
Stewart, Mike
Dean, Dan
Troy, Colleen
Buxton, Jim
Conte, Joseph
George, David
Shichi, Yuki
Biondi, Paul
Casey, Colleen
Dodero, Mary Kay
Hoffman, Angie
Kahler, Julie
Lucius, Jill
Malik, Liesa
Mauser, Jean
Napolitan, Denis
Ramsey, Pegi
Snar, Nancy
Spiller, Peter
Stanley, Dean
Waters, Robert
Weathers, Cliff
Whetstone, Martina
Worland, Martha
Hoffman, John
Primeau, Tom
Verdoni, Klara E.
Description
---
Night of the long class ; Four candidates remain Search continues for director ; Capital speaker talks on history ; Mild winter saves money ; New law links registration and aid ; EDITORIAL: Rock not all bad ; Paper must be aware ; Cheering schedule difficult ; Satan affects seat ; Forensics sponsor meet ; Ph.D program now offered ; NOW views job future ; CAMPUS LIVING - ARTS: Success comes forOU grads When one's dreams become realities ; Students seek security ; Building reputation tough ; Cupid strikes hearts of many ; OPFN SPACE: By MG Breakdown blues ; Stones concert stars Jagger; good footage ; Films showcased ; Arts fest underway ; SPORTS: Women win three; remain on top ; Tonti leaves team ; Up and Coming Pioneer Home Events ; Pioneers split two ; Endurance the key for Mannino ; Tankers win again; beat Ferris ; Ski teams take second ; New meal plan to save money ; Master's program sought
Date
---
1983-02-14
Subject
---
Rowan, Carl T. (Carl Thomas), 1925-2000
Oakland University. Office of the President. Athletics
Health and Environmental Chemistry PhD
Master of Science in Engineering Management
Burns, Rob
Meal plans
Rights
---
Users assume all responsibility for questions of copyright, invasion of privacy, and rights of publicity that may arise in using reproductions from the library's collections.
Collections
---