The Oakland Sail 1983-01-10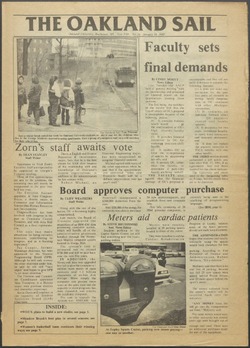 Author
---
Contributor
---
Sullivan, Larry
Briggs-Bunting, Jane
Mooty, Cindy
Stewart, Mike
Dean, Dan
Troy, Colleen
Buxton, Jim
Conte, Joseph
George, David
Shichi, Yuki
Biondi, Paul
Casey, Colleen
Dodero, Mary Kay
Hoffman, Angie
Kahler, Julie
Lucius, Jill
Malik, Liesa
Mauser, Jean
Napolitan, Denis
Ramsey, Pegi
Snar, Nancy
Spiller, Peter
Stanley, Dean
Waters, Robert
Weathers, Cliff
Whetstone, Martina
Worland, Martha
Hoffman, John
Primeau, Tom
Verdoni, Klara E.
Description
---
Zorn's staff awaits vote ; Faculty sets final demands ; Board approves computer purchase ; Meters aid cardiac patients ; WOUX plans for FM ; EDITORIAL ; Rewards granted to active students ; Funds provided for Hannah ; CAMPUS LIVING - ARTS "Talley's Folly" Finest in years ; Nolte in pursuit with Hoffman in drag ; A killer comedy in 48 hrs. action ; Dainty Dustin a hit in Tootsie ; New tax threatens tuition ; OPEN SPACE: Mind wanders in class ; SPORTS: Luck evades Pioneer cagers again ; Women keep winning ; Swimmers cruise to an easy victory ; Tankers pass 'hell week'
Date
---
1983-01-10
Subject
---
Contract negotiations
Parking meters
Computers
Oakland University. Student Organizations. WXOU
Hannah Hall
Renovations
Rights
---
Users assume all responsibility for questions of copyright, invasion of privacy, and rights of publicity that may arise in using reproductions from the library's collections.
Collections
---