The Oakland Sail 1982-11-01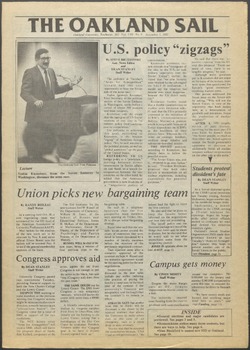 Author
---
Contributor
---
Poulin, Marianne
Sullivan, Larry
Briggs-Bunting, Jane
Vandenhemel, Dan
Primeau, Tom
Troy, Colleen
Buxton, Jim
Conte, Joseph
George, David
Hall, Caryn
Andrews, Cheryl
Biondi, Paul
Boileau, R.M.
Brudzinski, Steve
Hasspacher, Deana
Howes, Barbara
Kahler, Julie
Lewis, Scott
Malik, Liesa
Matlera, Maria
Mauser, Jean
Mooty, Cindy
Schwartz, Carol
Serafini, Jerry
Sornig, Barb
Spiller, Peter
Valle, Robert del
Dean, Dan
Gardziola, Greg
Hoffman, John
Knoska, Emil Robert (Bob)
Malburg, Mike
Verdoni, Klara E.
Description
---
Lecture ; U.S. policy "zigzags" ; Union picks new bargaining team ; Congress approves aid ; Students protest dissident's fate ; Campus gets money ; Hutton hopeful of State Board victory ; Senate race narrows ; Candidates offer views ; EDITORIAL: Governor's race comes up short ; I WON'T STOP 'TiL YOU DO! ; Unions voice their side of labor ; Student feels 'one vote counts' ; Diverse ballot proposals confront voters ; CAMPUS LIVING - ARTS: Homesickness hits after newness wears off ; Light; enjoyable show ; Plant goes it alone ; Wall writing revealed ; OPEN SPACE: It could be so very simple ; SPB shows Golden Pond ; SPORTS: Pioneers split a pair with UMSL and Akron ; Stan Blackford brings enthusiasm to OU ; Spikers are ready for WSU ; Tennis winds down
Date
---
1982-11-01
Subject
---
AAUP contracts
Contract negotiations
Unions
Oakland University. Student Congress
Elections
Rights
---
Users assume all responsibility for questions of copyright, invasion of privacy, and rights of publicity that may arise in using reproductions from the library's collections.
Collections
---