The Oakland Sail 1982-10-18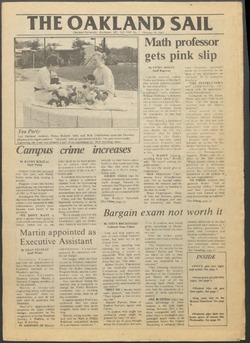 Author
---
Contributor
---
Poulin, Marianne
Sullivan, Larry
Briggs-Bunting, Jane
Vandenhemel, Dan
Primeau, Tom
Troy, Colleen
Buxton, Jim
Conte, Joseph
George, David
Hall, Caryn
Andrews, Cheryl
Biondi, Paul
Boileau, R.M.
Brudzinski, Steve
Hasspacher, Deana
Howes, Barbara
Kahler, Julie
Lewis, Scott
Malik, Liesa
Matlera, Maria
Mauser, Jean
Mooty, Cindy
Schwartz, Carol
Serafini, Jerry
Sornig, Barb
Spiller, Peter
Valle, Robert del
Dean, Dan
Hoffman, John
Knoska, Emil Robert (Bob)
Verdoni, Klara E.
Description
---
Tea Party ; Campus crime increases ; Martin appointed as Executive Assistant ; Math professor gets pink slip ; Bargain exam not worth it ; WOUX format challenges Detroit rock ; Facts refute misconceptions ; New job for Marin ; Cold War lecture series to educate public ; EDITORIAL: Press responsible to the public ; Student is distressed over use of ad ; Provost voices opinion ; Even tigers have rights ; Lucky few get jobs: connections help ; CAMPUS LIVING - ARTS Trip sheds new light on Merry old England ; Student teacher honored ; O'Toole a hit in new movie ; Interships keys to success ; OPEN SPACE: Too old to boogy ; New club on campus ; SPORTS: Pioneers beat WSU ; Offense forgotten by Spring Arbor ; Jog around campus and end up in Boston ; Spikers win in Lepley ; Last chance to see Pioneers
Date
---
1982-10-18
Subject
---
Oakland University. College of Arts and Sciences. Department of Mathematics and Statistics
Statistics
Crime
Oakland University. Student Congress
Academic Conduct Committee
Oakland University. Student Organizations. WXOU
Rights
---
Users assume all responsibility for questions of copyright, invasion of privacy, and rights of publicity that may arise in using reproductions from the library's collections.
Collections
---
Related items
Showing items related by title, author, creator and subject.
Oakland Sail, Inc.

(

Oakland Sail, Inc.

,

2002-10-25

)

Metro Detroit job Search: Find a better career in your own backyard

Oakland Sail, Inc.

(

Oakland Sail, Inc.

,

2002-11-08

)

Metro Detroit job Search: Find a better career in your own backyard

Oakland Sail, Inc.

(

Oakland Sail, Inc.

,

2002-11-01

)

Metro Detroit job Search: Find a better career in your own backyard