The Oakland Sail 1982-10-11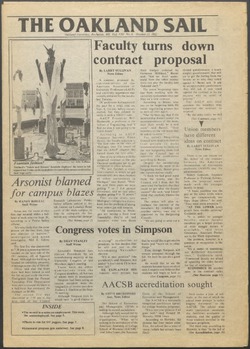 Author
---
Contributor
---
Poulin, Marianne
Sullivan, Larry
Briggs-Bunting, Jane
Vandenhemel, Dan
Primeau, Tom
Troy, Colleen
Buxton, Jim
Conte, Joseph
George, David
Hall, Caryn
Andrews, Cheryl
Biondi, Paul
Boileau, R.M.
Brudzinski, Steve
Hasspacher, Deana
Howes, Barbara
Kahler, Julie
Lewis, Scott
Malik, Liesa
Matlera, Maria
Mauser, Jean
Mooty, Cindy
Schwartz, Carol
Serafini, Jerry
Sornig, Barb
Spiller, Peter
Valle, Robert del
Dean, Dan
Hoffman, John
Knoska, Emil Robert (Bob)
Verdoni, Klara E.
Description
---
Faculty turns down contract proposal ; Fountain fashion? ; Arsonist blamed for campus blazes ; Congress votes in Simpson ; Union members have different ideas on contract ; AACSB accreditation sought ; Colleges to be linked by cable system ; Mini-station opens in Hamlin ; Road trip ends ; EDITORIAL: Unions protect man ; Behind the Financial Aid scene ; Remember Munich ; Unfair cut-off ; Sail's good coverage ; CAMPUS LIVING - ARTS: Grads get jobs but aren't always happy ; New challenge to students ; A look behind the Great Wall Students travel to the Far East ; DIVERSIONS ; Meadow Brook opens with Macbeth ; Students can save on books ; OPEN SPACE ; No more free loaders - Tigers sent to Siberia ; SPORTS: Oakland ties Eastern Illinois; 1-1 ; Spikers Capture Three matches ; Joggers find room to run ; No luck for Oakland ; SAFE ; Intramural Program starts ; GET READY ; Netters shaping up ; Fall Sports ; Station ; Building a "Doll House"
Date
---
1982-10-11
Subject
---
AAUP contracts
Contract negotiations
Unions
Crime
Fires
Oakland University. Student Congress
Oakland University. School of Business Administration
Accreditation
Oakland University Police Department
Hamlin Hall
Meadow Brook Theatre
Rights
---
Users assume all responsibility for questions of copyright, invasion of privacy, and rights of publicity that may arise in using reproductions from the library's collections.
Collections
---
Related items
Showing items related by title, author, creator and subject.
Oakland Sail, Inc.

(

Oakland Sail, Inc.

,

2002-10-25

)

Metro Detroit job Search: Find a better career in your own backyard

Oakland Sail, Inc.

(

Oakland Sail, Inc.

,

2002-11-08

)

Metro Detroit job Search: Find a better career in your own backyard

Oakland Sail, Inc.

(

Oakland Sail, Inc.

,

2002-11-01

)

Metro Detroit job Search: Find a better career in your own backyard