The Oakland Sail 1979-04-19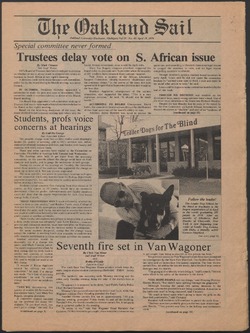 Author
---
Contributor
---
O'Grady, Robin
Spears, John
Alderman, Stuart
Dunstan, Jay
DeGeorge, Gail
McGerty, Maureen
Trumper, Marilyn S.
Briggs-Bunting, Jane
Bakshi, Sheba
Chachich, Paula
Chappell, Karin
D'Haene, Elise
Fodale, Vicki
Fortier, Daryl C.
Gaesaman, Betsy
Kassel, Kevin
Lenart, Susan
Marshall, David
Marzahi, Michelle
Moorhead, Ree
Newman, Kent
Quackenbush, Joseph
Robinson, Dave
Schelske, Don
Schreiber, Betsy
Susalla, Doug
Van Meter, Chris
Ouellette, Chris
Description
---
Special committee never formed Trustees delay vote on S. African issue ; Students; profs voice concerns at hearings ; Follow the leader! ; Seventh fire set in Van Waeoner ; Letters from our Readers: Student questions Congress' motives ; Advice for anonymous OU critic ; Congress denies non-involvement in credit change ; Student looks to Congress for credit change information ; Library again defends past closings ; A thank you for library door guards ; Letter Sports & Rec "Red Tape" bothers alumnist ; Leader Dogs penetrate dark ; For 20 year they've worked the OC halls ; Coaching changes overshadow 'Year of Achievements' Sail salutes 20 departing athletes ; Spring teams continue quest in Great Lakes Conference ; Students Speak Out: "Would you favor OU following U of M's policy of having no classes the week before finals?" ; SRC wants to finish survey by Fall registration OU Undiapered seeks help from professors
Date
---
1979-04-19
Subject
---
Dorm fires
South Africa
Three credit system
Leader Dogs for the Blind
OU Undiapered
Rights
---
Users assume all responsibility for questions of copyright, invasion of privacy, and rights of publicity that may arise in using reproductions from the library's collections.
Collections
---