Focus: Oakland 1974-01-16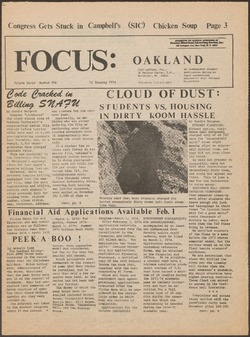 Author
---
Contributor
---
Hadley, Lawrence D.
Pociask, Robert A.
Herbertson, Thomas W.
Barshaw, Charles J.
Dearing, Vicki
Greer, Betty
Despard, Rick
Glaser, Gary
Meckler, Ron
Moy, Art
Bolema, Tom
Woods, Willis
Kosiba, S. Zaneta
Mills, Rick
Nahajewski, Al
Burgess, Sandra
Schroeder, John
Drife, Marie
Haga, William
McDonald, Sheila
Todd, Beverly
Carter, Gary
Henderson, Joyce
Kutlick, Anna
Pici, Donna
Phillips, Linda
Harper, Mary
Long, Christel
Volz, Mark Wayne
Cummer, James A.
Greening, Bruce
Plachta, Connie
Seroka, Donna
Slis, Kathy
Reinhart, Garry
Description
---
Code Cracked in Billing SNAFU ; CLOUD OF DUST: STUDENTS VS. HOUSING IN DIRTY ROOM HASSLE ; Financial Aid Applications Available Feb. 1 ; PEEK-A-BOO! ; EDITORIAL: Persecution Continues ; HAWKES MURDER ; TICKETS ; CAMPBELL REPLACES LIND AS CONG. PRES. ; 4500 Use Adv. Reg. ; STUDENTS FOR ACTION GEARS UP ; theatre ; films ; music ; galleries ; JACQUES BREL: When We Called him Jackie ; lectures ; special events ; Clash With Grand Valley Tonight! CAGERS RACE TO 13-3 MARK ; Tankers Sink CMU And Valparaiso; Now 4-2 ; Varsity Basketball Cont. ; C.W. POST 48-OAKLAND 47 ; Girls Roll On ; JV trims U-D ; CAMPBELL NOT LAME DUCK ; The 'Reguesstration' Game
Date
---
1974-01-16
Subject
---
Financial aid
Oakland University Police Department
Oakland University. Student Congress
Registration
Oakland in Action
Rights
---
Users assume all responsibility for questions of copyright, invasion of privacy, and rights of publicity that may arise in using reproductions from the library's collections.
Collections
---
Related items
Showing items related by title, author, creator and subject.
Oakland Sail, Inc.

(

Oakland Sail, Inc.

,

2002-10-25

)

Metro Detroit job Search: Find a better career in your own backyard

Oakland Sail, Inc.

(

Oakland Sail, Inc.

,

2002-11-08

)

Metro Detroit job Search: Find a better career in your own backyard

Oakland Sail, Inc.

(

Oakland Sail, Inc.

,

2002-11-01

)

Metro Detroit job Search: Find a better career in your own backyard