Ditch the textbook - Save your students' money adopt an open textbook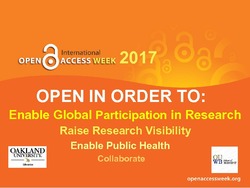 Author
---
Rodriguez, Julia E.
Pieri, Caterina

Date
---
2017-10-27
Abstract
---
Learn how locate, use and create OER's for your courses. Open Educational Resources (OER) are teaching, learning resources released under an open license that permits their free use and repurposing by others.
xmlui.dri2xhtml.METS-1.0.item-citation
---
Julia E. Rodriguez & Caterina, Pieri (2017, Oct. 27). Ditch the textbook - Save your students' money adopt an open textbook - Open Access Week 2017. Oakland University Libraries. Oakland University.
Collections
---