Profiles of expressed humility in leadership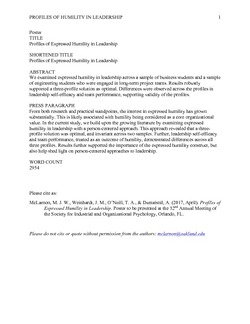 Author
---
McLarnon, Matthew J. W.

Date
---
2017-04
Abstract
---
From both research and practical standpoints, the interest in expressed humility has grown substantially. This is likely associated with humility being considered as a core organizational value. In the current study, we build upon the growing literature by examining expressed humility in leadership with a person-centered approach. This approach revealed that a three- profile solution was optimal, and invariant across two samples. Further, leadership self-efficacy and team performance, treated as an outcome of humility, demonstrated differences across all three profiles. Results further supported the importance of the expressed humility construct, but also help shed light on person-centered approaches to leadership.
Preferred Citation
---
McLarnon, M. J. W., Weinhardt, J. M., O'Neill, T. A., & Dumaisnil, A. (2017, April). Profiles of expressed humility in leadership. Poster presented at the 32nd Annual Meeting of the Society for Industrial and Organizational Psychology, Orlando, FL.
Collections
---