The Oakland Post 1990-06-11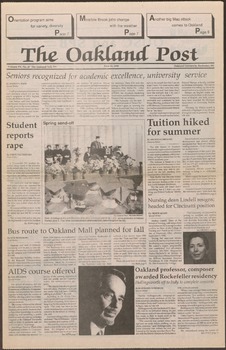 Author
---
Contributor
---
O'Brien, Margaret
Tschirhart, Steve
Michael, Michelle
DeBrincat, Gina
Chiappetta, Nick
Casey, Mary
Schwark, Candice
Speight, Cory
Sears, Tammie
Johnson, Heidi
King, Steven
Vanderbeke, Patricia
Abraam, Christine
Basham, Matthew
Boone, Kelly
Forslund, Bev
Green, Kyle
Goetz, Sharon
Gorski, Wendy
Johnson, Carolyn
Koch, Kathryn
Lewis, Derrick
Otenbaker, Laura
Pelletier, P.J.
Rosseel, Yvonne
Sherlock, Rebecca
Spencer, Sallee
Sturza, Mary Jo
Taff, Timothy
Taylor, Lisa
Webb, Sharise
Whitcher, Jeff
Surowiec, James
Church, Tom
Description
---
Seniors recognized for academic excellence; university service ; Student reports rape ; Spring send-off ; Tuition hiked for summer ; Bus route to Oakland Mall planned for fall ; Nursing dean Lindell resigns; headed for Cincinatti position ; AIDS course offered ; Oakland professor; composer awarded Rockefeller residency: Hollingsworth off to Italy to complete concerto ; Dump moved ; Bombers await sentencing ; Forensic team in elite company with tournament finish ; Make access to OU police records easy; open and legal ; Concealing campus crime poses legal problems; endangers all ; Faculty attendance would help make graduation complete ; Letters to the Editor ABS; Raices members should be commended; supported for efforts ; Q: How do you feel about the suicide machine? ; Please; this is nothing to lose your hair over ; College student searches for long lost love ; QUAYLE KOLLEGE ; ZOO U. ; QUOTABLES ; The Weekly Crossword Puzzle ; This Week's Horoscope ; What's Happening ; Catching up with the day ; Settling in ; A fishbowl in SFH? ; Meadow Brook's Festival Blooms ; Theater employees help festival's shows to go on ; Palace Gardens no threat to Meadow Brook Festival ; Leaders learn the ropes ; Patio passages ; Sounds of summer show substance; deliver fun ; Hammer Time ; Still no respect ; Not missing L.A. ; Macker mania returns to OU ; Baseball season less than expected ; More post-season honors for Delie; Gregory ; OU fencers go to USFA National championships ; No finish for golfers ; Play ball ; Sports camps for kids
Date
---
1990-06-11
Subject
---
Tuition rates
AIDS
Hollingsworth, Stanley, 1924-2003
Meadow Brook Music Festival
Fencing
Rights
---
Users assume all responsibility for questions of copyright, invasion of privacy, and rights of publicity that may arise in using reproductions from the library's collections.
Collections
---