The Oakland Post 1990-04-09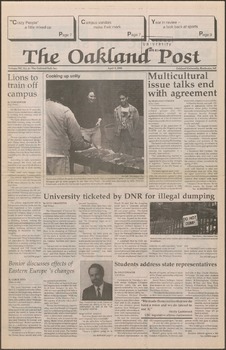 Author
---
Contributor
---
Zito, Carol
O'Brien, Margaret
Michael, Michelle
Moraniec, Marc
Voytas, Tom
Villarosa-Bolton, Lorelei
Simmons, Donna
Stock, Karen
Sears, Tammie
Chiappetta, Nick
Vanderbeke, Patricia
Abraam, Christine
Basham, Matthew
Boone, Kelly
DeBrincat, Gina
Forslund, Bev
Green, Kyle
Goetz, Sharon
Gorski, Wendy
Johnson, Carolyn
Johnson, Heidi
Koch, Kathryn
Lewis, Derrick
Pelletier, P.J.
Pomaville, Kathy
Rosseel, Yvonne
Schwark, Candi
Sears, Tammie
Sherlock, Rebecca
Spencer, Sallee
Sturza, Mary Jo
Taff, Timothy
Taylor, Lisa
Webb, Sharise
Whitcher, Jeff
Surowiec, James
Description
---
Lions to train off campus ; Cooking up unity ; University ticketed by DNR for illegal dumping ; Bonior discusses effects of Eastern Europe's changes ; Students address state representatives ; Multicultural issue talks end with agreement ; Everyone loses with no coverage of race relations ; OutLand ; Minority groups should have thought out demands ; Letters to the Editor Controversial issues warrant open dialogue ; Many questions left unanswered ; Vandalism: An expense shared by all ; Unusual treasures dug up ; ABS mural promotes unity; education ; Crazy People proves passive; lacks luster ; Ready for baseball? ; Baseball team loses to SVSU; weather ; 1989-90: The year in OU sports ; Tennis team perfect in GLIAC ; Four OU hoopsters oh GLIAC All-Academic squad
Date
---
1990-04-09
Subject
---
Environment
Multiculturalism
Bonior, David, 1945-
Archaeology
Rights
---
Users assume all responsibility for questions of copyright, invasion of privacy, and rights of publicity that may arise in using reproductions from the library's collections.
Collections
---