The Oakland Post 1990-03-26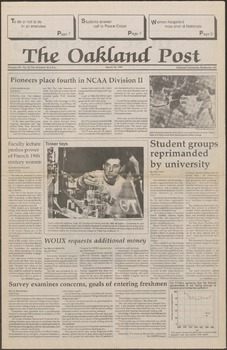 Author
---
Contributor
---
Zito, Carol
O'Brien, Margaret
Michael, Michelle
Moraniec, Marc
Voytas, Tom
Villarosa-Bolton, Lorelei
Simmons, Donna
Stock, Karen
Sears, Tammie
Chiappetta, Nick
Vanderbeke, Patricia
Abraam, Christine
Basham, Matthew
Boone, Kelly
DeBrincat, Gina
Forslund, Bev
Green, Kyle
Goetz, Sharon
Gorski, Wendy
Johnson, Carolyn
Johnson, Heidi
Koch, Kathryn
Lewis, Derrick
Pelletier, P.J.
Pomaville, Kathy
Rosseel, Yvonne
Schwark, Candi
Sears, Tammie
Sherlock, Rebecca
Spencer, Sallee
Sturza, Mary Jo
Taff, Timothy
Taylor, Lisa
Webb, Sharise
Whitcher, Jeff
Surowiec, James
Description
---
Pioneers place fourth in NCAA Division II ; Faculty lecture probes power of French 19th century women ; Tinker toys ; WOUX requests additional money ; Student groups reprimanded by university ; Survey examines concerns; goals of entering freshmen ; Greek orgs' complaints misguided ; GREEK REGRESSION ; Letter to the Editor Reviewer's perception is lacking ; Historical journeys ; Interview etiquette: Witty words of wisdom ; Support sought from lecture ; Mural of minds ; Corps life fulfilling ; CIPO cookbook ; Profs whip up favorite dishes ; Boyfriend steals hearts ; Q: What do you think OU's chances were in the Final Four? ; QUAYLE KOLLEGE ; What's Happening ; Invitation to dance a victory for Pioneers ; Experience and intangibles count ; A scrappy bunch; these Pioneers ; Semi rally falls short; OU fourth ; Pioneers are new kids on the block ; Delie GLIAC's player of the year ; Top scorer Taylor on first team ; Injuries; hard luck; mark men's season
Date
---
1990-03-26
Subject
---
Greek letter societies
Oakland University. Student Organizations. WXOU
Peace Corps
Rights
---
Users assume all responsibility for questions of copyright, invasion of privacy, and rights of publicity that may arise in using reproductions from the library's collections.
Collections
---