The Oakland Post 1990-03-19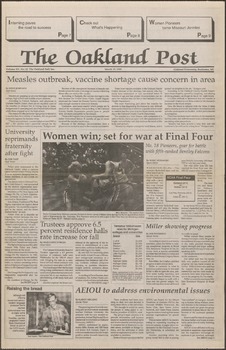 Author
---
Contributor
---
Zito, Carol
O'Brien, Margaret
Michael, Michelle
Moraniec, Marc
Voytas, Tom
Villarosa-Bolton, Lorelei
Simmons, Donna
Stock, Karen
Sears, Tammie
Chiappetta, Nick
Vanderbeke, Patricia
Abraam, Christine
Basham, Matthew
Boone, Kelly
DeBrincat, Gina
Forslund, Bev
Green, Kyle
Goetz, Sharon
Gorski, Wendy
Johnson, Carolyn
Johnson, Heidi
Koch, Kathryn
Lewis, Derrick
Pelletier, P.J.
Pomaville, Kathy
Rosseel, Yvonne
Schwark, Candi
Sears, Tammie
Sherlock, Rebecca
Spencer, Sallee
Sturza, Mary Jo
Taff, Timothy
Taylor, Lisa
Webb, Sharise
Whitcher, Jeff
Surowiec, James
Description
---
Measles outbreak; vaccine shortage cause concern in area ; University reprimands fraternity after fight ; Women win; set for war at Final Four: No. 18 Pioneers; gear for battle with fifth-ranked Bentley Falcons ; Trustees approve 6.5 percent residence halls rate increase for fall ; Raising the bread ; Miller showing progress ; AEIOU to address environmental issues ; News Briefs Gunman found in dorm room ; Carpet damaged in shirt fire ; Domestic fight brings problems to campus ; Oakland purchases; leases new computer equipment to keep program current ; Military spending cuts should yield peace dividend: Education should get extra money ; Letters to the Editor Greek fight should not overshadow good deeds ; Ending classroom disruptions takes effort from all ; Tasting the rainbow ; Interns' duties offer networking; pay ; Community trash keeps piling up ; Picks on flicks: Koch selects Oscar favorites ; Cloaked craftsmen ; Q: What's the latest thing you've done to help the environment? ; QUAYLE KOLLEGE ; What's Happening ; See you on ESPN; OU ; Women oust Jennies 66-61: Pioneers advance to NCAA Final Four ; Only strikes in this baseball league are at home plate ; 'Wall' blocks swimmers at NCAA championships
Date
---
1990-03-19
Subject
---
Health care
Environment
Oakland University. Student Organizations
Technology
Kresge Library
Computers
Student internships
NCAA
Rights
---
Users assume all responsibility for questions of copyright, invasion of privacy, and rights of publicity that may arise in using reproductions from the library's collections.
Collections
---