The Oakland Post 1990-03-12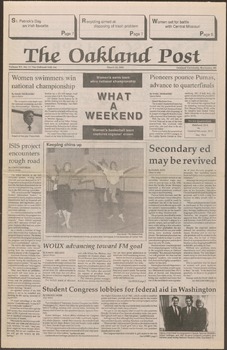 Author
---
Contributor
---
Zito, Carol
O'Brien, Margaret
Michael, Michelle
Moraniec, Marc
Voytas, Tom
Villarosa-Bolton, Lorelei
Simmons, Donna
Stock, Karen
Sears, Tammie
Chiappetta, Nick
Vanderbeke, Patricia
Abraam, Christine
Basham, Matthew
Boone, Kelly
DeBrincat, Gina
Forslund, Bev
Green, Kyle
Goetz, Sharon
Gorski, Wendy
Hogg, David
Johnson, Carolyn
Johnson, Heidi
Koch, Kathryn
Lewis, Derrick
Pelletier, P.J.
Pomaville, Kathy
Rosseel, Yvonne
Schwark, Candi
Sears, Tammie
Sherlock, Rebecca
Spencer, Sallee
Sturza, Mary Jo
Taff, Timothy
Taylor, Lisa
Webb, Sharise
Whitcher, Jeff
Surowiec, James
Description
---
Women swimmers win national championship ; Pioneers pounce Pumas; advance to quarterfinals ; ISIS project encounters rough road ; Student Congress lobbies for federal aid in Washington ; Keeping chins up ; WOUX advancing toward FM goal ; Secondary ed may be revived ; Secondary ed: a major whose time has come ; OutLand ; Letters to the Editor Graham's mission is to educate ; Paper highlights Greek negatives ; Advanced degree article in need of more clarification ; MCC partnership an important step ; Lepley needs improvements ; Congress to tackle waste issue ; Recycling: A key to survival ; When Irish eyes smile - from Hazel Park ; BAM literary contest a success ; Sebastians duo mesmorize ; Q: Do you think Coleman Young was set up for a sting by the federal government? ; This Week's Horoscope ; What's Happening ; Hey MO; hey MO OU has the mo ; Pioneers send St. Joe home: 89-86 victory at Lepley sets stage for showdown with Central Missouri ; Pioneers roll out quick carpet for tournament ; OU hosts second straight regional ; Student drops bomb for dough ; Pumas leave with tail between legs; literally ; Women take title; men capture second ; Chronological results of meet's events
Date
---
1990-03-12
Subject
---
Women's swimming and diving
National championships
Women's basketball
Regional championships
Oakland University. Student Organizations. WXOU
Environment
Black Awareness Month
Rights
---
Users assume all responsibility for questions of copyright, invasion of privacy, and rights of publicity that may arise in using reproductions from the library's collections.
Collections
---