The Oakland Post 2014-04-02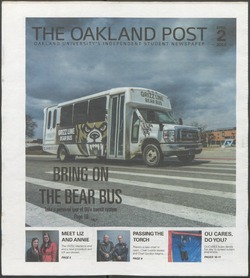 Author
---
Contributor
---
Wolchek, Scott
Kean, Kaylee
Goodin-Smith, Oona
Pontzer, Timothy
Alsko, Jake
Mathias, Kailee
DeRees, Ali
Cesefske, David
Kujawski, Adam
Wernette, Andrew
Saulino, Matt
Gilbert, Jackson
Schlenner, Sam
Pulis, Michael
Polovina, Marko
Robinson, Cyndia
Kotwicki, Haley
Figurski, Brian
Moulden, Rachel
Soltman, Josh
Miner, Deleon
Georges, Salwan
Johnson, Kailey
Ferdinande, Michael
Jappaya, Robert
Lepkowski, Frank J.
Wanagat, Kalle
Higdon, Nigel
Description
---
Bring on the Bear Bus ; MEET LIZ AND ANNIE ; this week ; PHOTO OF THE WEEK ; Perspectives STAFF EDITORIAL OU's apocalypse prank brings light after a cold; dark winter ; Perspectives EDITORIAL Graduation: What do we do afterward? ; Celebration and accomplishments can't stop persistent ponderings of the future ; Campus Voters name new Student Body President and Vice President ; Campus OUSC's constitution revisions dashed ; Congress members forced back to the drawing board due to low voter turnout ; Grizzlies on the Prowl: "what's your favorite April Fools Day prank?" ; POLICE Rash of thefts in P11 ; Campus Oakland University runs first diversity conference ; Keynote speaker discusses microaggressions in media and employment ; Campus Ford talks information technology ; Company rep. visits campus to discuss security; recruitment ; And the survey says ; CampuS HANDING DOWN THE REIGNS ; The nationwide search for the next chief ends with OUPD's own Captain Gordon ; Sharing the love and having fun ; Sports Men's soccer scores talent ; Head coach Eric Pogue discusses roles of recruiting class for upcoming season ; Sports Bader makes 3-point championship: Senior guard is also up for mid-major player of the year award ; Tungate does not renew coaches' contracts: Women's basketball head coach to begin nationwide search for replacements with strong recruiting ties ; THE BLITZ Track and field stopped ; Life WGS film fest showcases women in hip hop ; Life The magic school bus: Making friends is just one of the things Keisa Saunders likes about being a Bear Bus driver ; Life A little thing called magic: Disney internships help students' dreams come to life ; Sharing the history of Easter: New Christian group on campus to unveil origins of Easter via video premiere in North Foundation Hall ; Puzzles ; Do a little turn on the catwalk ; Fashion House of Oakland unites local designers to display new spring styles ; Mouthing Off SATIRE It's the end of the world as we know it
Date
---
2014-04-02
Subject
---
Bear Bus
Oakland University. Student Congress
Election results
Diversity
Cyber security
Oakland Center
Oakland University Police Department
Autism
Internships
Fashion
Rights
---
Users assume all responsibility for questions of copyright, invasion of privacy, and rights of publicity that may arise in using reproductions from the library's collections.
Collections
---
Related items
Showing items related by title, author, creator and subject.
Oakland Sail, Inc.

(

Oakland Sail, Inc.

,

2002-10-25

)

Metro Detroit job Search: Find a better career in your own backyard

Oakland Sail, Inc.

(

Oakland Sail, Inc.

,

2002-11-08

)

Metro Detroit job Search: Find a better career in your own backyard

Oakland Sail, Inc.

(

Oakland Sail, Inc.

,

2002-11-01

)

Metro Detroit job Search: Find a better career in your own backyard