The Oakland Post 2014-03-19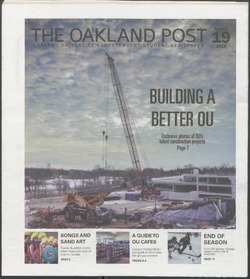 Author
---
Contributor
---
Wolchek, Scott
Kean, Kaylee
Goodin-Smith, Oona
Pontzer, Timothy
Alsko, Jake
Mathias, Kailee
DeRees, Ali
Cesefske, David
Kujawski, Adam
Wernette, Andrew
Saulino, Matt
Gilbert, Jackson
Oldani, John
Polovina, Marko
Ross, Crystal
Robinson, Cyndia
Kotwicki, Haley
Figurski, Brian
Moulden, Rachel
Soltman, Josh
Miner, Deleon
Georges, Salwan
Johnson, Kailey
Ferdinande, Michael
Jappaya, Robert
Lepkowski, Frank J.
Wanagat, Kalle
Higdon, Nigel
Description
---
Building a Better OU ; on the web ; PHOTO OF THE WEEK ; POLL OF THE WEEK ; LAST WEEK'S POLL ; THIS WEEK IN HISTORY ; Perspectives STAFF EDITORIAL Racism still counts while you're lurking behind a screen ; Campus Model UN team competes in North American conference: OU students discuss and solve human rights issues ; Campus Peace; love and understanding: Tibetan monks share culture and values in the Oakland Center through ritual sand mandala ; !Viven los sonidos! ; Campus Students capture campus spirit: Humans of OU: crowd sourcing project;chronicles Oakland through photos ; Grizzlies on the Prowl: "In honor of Women's History Month; what woman in your life has made an impact?" ; POLICE FILES: MIP at Hamlin Hall ; Campus BRICKS; GLASS; CEMENT ; Spring brings results of campus construction ; Which campus cafe is for yOU?: Timothy & Marsha Healy Cafe ; Campus TEDx motivates and educates students: Students and faculty pack the Human Health Building for TEDx conference ; Sports OU DIII hockey club falls at nationals ; Division III hockey team falls just short of semifinals ; THE SPORTING BLITZ: Cross Country ; Sports Impacting athletes' lives ; Assistant Director of Athletics earns honor; award ; Life Growing coffee and community: Cafe de Kuna raises money and builds relationships in Panama ; Love; luck and loss: the story of Sweet Charity ; Puzzles ; Life International festivities ; Mouthing Off SATIRE Stop beating up kids for no reason
Date
---
2014-03-19
Subject
---
Campus development
Construction
United Nations
Religions
Tibetan monks
Photography
Women's history month
TED Talks
Hispanic culture
Rights
---
Users assume all responsibility for questions of copyright, invasion of privacy, and rights of publicity that may arise in using reproductions from the library's collections.
Collections
---