The Oakland Post 2014-03-12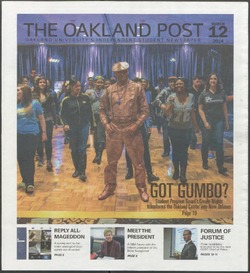 Author
---
Contributor
---
Wolchek, Scott
Kean, Kaylee
Goodin-Smith, Oona
Pontzer, Timothy
Alsko, Jake
Mathias, Kailee
DeRees, Ali
Cesefske, David
Kujawski, Adam
Wernette, Andrew
Saulino, Matt
Gilbert, Jackson
Oldani, John
Polovina, Marko
Ross, Crystal
Robinson, Cyndia
Kotwicki, Haley
Figurski, Brian
Moulden, Rachel
Soltman, Josh
Miner, Deleon
Georges, Salwan
Johnson, Kailey
Ferdinande, Michael
Jappaya, Robert
Lepkowski, Frank J.
Wanagat, Kalle
Higdon, Nigel
Description
---
Got Gumbo? ; REPLY ALL-MAGEDDON ; this week ; on the web ; BY THE NUMBERS ; Perspectives STAFF EDITORIAL Join the OU wolfpack: Protect Michigan wolves from hunters ; Campus OUSC proposes sponsoring another tailgate in the Spring ; Tax fraud poses large concern ; CAMPUS BRIEFS: International Night; March 14 ; Campus Reply allmageddon 2014: An email chain to make OU history ; Survey sent to 15655 undergrads results in trolling, pain, spam ; Campus Annual Spring Concert cancelled: Jason Derulo backs out and Student Program Board apologizes to OU students ; Grizzlies on the Prowl: "What was your reaction when you found out the spring concert was canceled?" ; POLICE: Larceny in bathroom ; Campus Texts keep campus police alert: OUPD text alerts provides way to report crime, emergencies ; High pride in sexual diversity ; Campus 'The Oakland way' ; Interim President Betty Youngblood shares her goals; aspirations and love for the Golden Grizzley country ; Campus Country in crisis: Professors discuss Russian involvement in Ukraine affairs ; Sports Wright State wrongs Oakland: Oakland's season ends as Grizzlies fall to Wright State 73-57 ; Losing season had its moments ; Sports One Last Swing: Senior Kassandra Komma reflects on four-year career as a Grizzly golfer ; Life Board of Trustees searching for next student liaisons: Student liaisons speak with Board; share student voice ; Life TED X: BEHIND THE MICROPHONE ; Life Pure mitten; pure Michigan: Panel of professionals discuss business in the Detroit area ; Cyber security club hosts first ever cyber summit ; Puzzles ; Life Here's to the nights ; SPB's Creole Nights brings New Orleans to OU ; Mouthing Off SATIRE The kids don't stand a chance ; SATIRE EMAILGEDDON TOP 10
Date
---
2014-03-12
Subject
---
Email (Webmail) problems
Oakland University Police Department
LGBTQ
Youngblood, Betty J.
Oakland University. Board of Trustees
TED Talks
Cyber security
Student activities
Rights
---
Users assume all responsibility for questions of copyright, invasion of privacy, and rights of publicity that may arise in using reproductions from the library's collections.
Collections
---