The Oakland Post 2014-03-05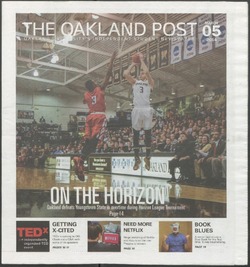 Author
---
Contributor
---
Wolchek, Scott
Kean, Kaylee
Goodin-Smith, Oona
Pontzer, Timothy
Alsko, Jake
Mathias, Kailee
DeRees, Ali
Cesefske, David
Kujawski, Adam
Wernette, Andrew
Saulino, Matt
Gilbert, Jackson
Oldani, John
Polovina, Marko
Ross, Crystal
Robinson, Cyndia
Kotwicki, Haley
Figurski, Brian
Moulden, Rachel
Soltman, Josh
Miner, Deleon
Georges, Salwan
Johnson, Kailey
Ferdinande, Michael
Jappaya, Robert
Lepkowski, Frank J.
Wanagat, Kalle
Higdon, Nigel
Description
---
On the Horizon ; GETTING X-CITED ; NEED MORE NETFLIX ; BOOK BLUES ; this week PHOTO OF THE WEEK: PLAYERS SHARING PRAYERS AFTER VICTORY ; on the web ; BY THE NUMBERS: Women's History Month Edition ; Perspectives STAFF EDITORIAL National R-Word Day: putting a stop to derogatory language ; Perspectives EDITORIAL It's not just about the colored eggs ; Campus group; Defero Icthus; promotes Christian understanding of Easter through videos ; Campus Grizzlies go the distance for eating disorder awareness ; Students; staff and faculty walk for the cause at the Rec Center ; Campus Political purge left Rohm in ruins: Derek Hastings talks Nazi involvement in WWII for History Comes Alive Lecture ; Grizzlies on the Prowl: "when did you realize you were on your own - grown up?" ; POLICE: Marijuana in car ; Campus Oakland scholars share research: Three OU students to present research at this year's National Conference on Undergraduate Research ; Campus School of Business Administration stays busy ; OU Business school works at caliber level to ensure good education and practical lessons in the working field ; Student Focus Group discusses OU goals ; Students invited to discuss their ideas and feelings with the facilitator ofOU's future strategic planning committee ; Get to know the TEDx speakers: TEDx brings variety ; Sports Mondy is jack of all trades: OU senior guard Duke Mondy simply does it all ; Women's tennis gets ready for conference play ; Sports Swim and dive teams capture victory: Oakland teams win first Horizon League championships ; Oakland softball prepares for conference schedule: After scheduling more games; the team wins week-long tournament and gears for conference championship ; THE SPORTING BLITZ ; Men's basketball ; Sports A Grizzly Comeback: Golden Grizzlies open the Horizon tournament with a nailbiting win against Youngstown State in overtime ; Life Spending free time on screen time: Students splurge on streaming sprees: Video websites offer entire seasons and independent releases for binge watching ; EVENT BRIEFS: Women's History Month: March 4 to April 17 ; Life Along came a Revon: OU student lands lead role in upcoming sci-fi thriller ; Life 'Pleasures and Pressures': WXOU general manager finds double reward in his job ; Puzzles: Mouthing Off SATIRE Blue Book Blues ; SATIRE Don't lose yourself
Date
---
2014-03-05
Subject
---
TED Talks
Religions
Eating disorders
Undergraduate research
Oakland University. School of Business Administration
Student activities
Oakland University. Student Organizations. WXOU
Rights
---
Users assume all responsibility for questions of copyright, invasion of privacy, and rights of publicity that may arise in using reproductions from the library's collections.
Collections
---