The Oakland Post 2014-02-19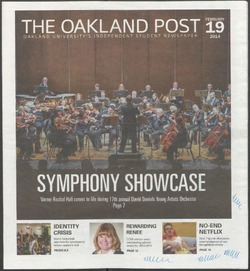 Author
---
Contributor
---
Wolchek, Scott
Pontzer, Timothy
Alsko, Jake
Mathias, Kailee
DeRees, Ali
Cesefske, David
Winkler, Katie
Kean, Kaylee
Saulino, Matt
Goodin-Smith, Oona
Searle, Ellen
Polovina, Marko
Kujawski, Adam
Alianell, Amanda
Gilbert, Jackson
Wernette, Andrew
Ross, Crystal
Robinson, Cyndia
Kotwicki, Haley
Figurski, Brian
Moulden, Rachel
Soltman, Josh
Miner, Deleon
Georges, Salwan
Johnson, Kailey
Lepkowski, Frank J.
Higdon, Nigel
Description
---
SYMPHONY SHOWCASE: Varner Recital Hall comes to life during 17th annual David Daniels Young Artists Orchestra Page 7 ; this week PHOTO OF THE WEEK ; Perspectives STAFF EDITORIAL Questions for Miller don't bode well with viewers; journalists ; Perspectives EDITORIAL A Reflection - My Life: Deafined ; Student discusses her loss of hearing and its unique impact on the world around her ; Campus OUSC contributes its voice: Student Congress members speak with leader of ongoing presidential search; share opinions ; Campus Political purge left Rohm in ruins ; Derek Hastings talks Nazi involvement in WWII for History Comes Alive Lecture ; Grizzlies on the Prowl: "when did you realize you were on your own - grown up? ; POLICE ; Campus Keeping it classical ; Oakland Symphony Orchestra performs with student soloists ; A TALE OF DREAMS ; Star senior leads Division III hockey club charge to national tournament ; THE SPORTING BLITZ ; Life Oakland to hold 2014 MASAL conference: Professors to speak on science; arts and humanities research ; Life Outstanding adviser dedicated to students: Renee Ligeski; communications adviser at Oakland; is recognized for her years of advising and service ; Life Fashion Passion ; Student org sponsors week-long demonstrations for those interested in make-up and style tips ; Puzzles: Life ; Language students put their verbal skills to the test in bilingual campus contest ; Mouthing Off SATIRE TV marathons are the best exercise
Date
---
2014-02-19
Subject
---
Hearing loss
Oakland University. Student Congress
Harper, Graeme
Awards
Advising
Fashion
Rights
---
Users assume all responsibility for questions of copyright, invasion of privacy, and rights of publicity that may arise in using reproductions from the library's collections.
Collections
---