The Oakland Post 2014-02-05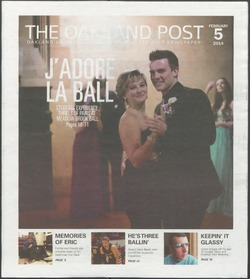 Author
---
Contributor
---
Wolchek, Scott
Davis, Jon
Pontzer, Timothy
Alsko, Jake
Mathias, Kailee
DeRees, Ali
Cesefske, David
Winkler, Katie
Kean, Kaylee
Saulino, Matt
Goodin-Smith, Oona
Searle, Ellen
Polovina, Marko
Kujawski, Adam
Alianell, Amanda
Gilbert, Jackson
Wernette, Andrew
Ross, Crystal
Kotwicki, Haley
Figurski, Brian
Moulden, Rachel
Soltman, Josh
Miner, Deleon
Georges, Salwan
Johnson, Kailey
Lepkowski, Frank J.
Lafountain, Luke
Description
---
J'Adore La Ball ; PHOTO OF THE WEEK ; POLL OF THE WEEK ; LAST WEEK'S POLL ; Perspectives STAFF EDITORIAL How to catch a convict: fight the bars by funding books ; Campus Public shootings on the rise: Ready Houston and OUPD educate civilians to understand the warning signs of a potential threat ; Campus OUSC debates bill to strengthen bylaws: Freshman legislator hopes to work on expanding dining hall hours and enforce clean air policy ; Campus Once; twice; three times a winner: WXOU receives "Best College Radio station" award for third year ; Grizzlies on the Prowl: "What did you want to be when you were a kid? What do you want to be now?" ; POLICE: Theft in the Oakland Center ; Campus Hot romance on a cold winter's night ; Meadow Brook Hall Student Outreach Organization holds Movie Date Night ; Campus Freshman dies in snowmobile accident ; Eric Pauli embodied Golden Grizzly pride in his short time at Oakland ; It's a Ball: Can-Can models; ballroom dance lessons and violin music set the tone for Amour a Paris ; Sports Bader gets the last laugh ; Travis Bader breaks NCAA Division I record for career 3-pointers ; Sports Grizzlies skate to their dreams: Oakland political science majors represent Team Canada in the 2014 Olympic Games in Russia ; Standout senior swimmer Julia Vela reflects on her career at Oakland ; Sports The bird is the word: OU eyes playoffs ; D1 hockey club looks to ride momentum of winning 'Good Luck Duck' trophy into the playoff season ; THE SPORTING BLITZ: Swimming and Diving ; Life Leaving in the red: Students cope with debt in variety of ways ; Life A NEW DEN FOR GRIZZLIES ; Downtown Education Nook offers studying area ; Puzzles ; Student explores the specs The Looking Glass ; Mouthing Off SATIRE OU'S CIRCLE CURSE PROVEN
Date
---
2014-02-05
Subject
---
Meadow Brook Ball
Active shooter training
Oakland University. Student Congress
By-laws
Oakland University. Student Organizations. WXOU
Awards
Obituaries
Olympics
Technology
Rights
---
Users assume all responsibility for questions of copyright, invasion of privacy, and rights of publicity that may arise in using reproductions from the library's collections.
Collections
---