The Oakland Post 2014-01-22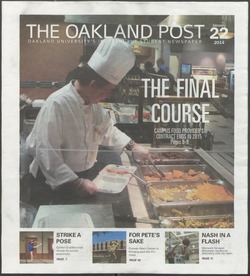 Author
---
Contributor
---
Wolchek, Scott
Davis, Jon
Pontzer, Timothy
Alsko, Jake
Mathias, Kailee
DeRees, Ali
Cesefske, David
Winkler, Katie
Kean, Kaylee
Saulino, Matt
Goodin-Smith, Oona
Searle, Ellen
Polovina, Marko
Kujawski, Adam
Alianell, Amanda
Gilbert, Jackson
Wernette, Andrew
Ross, Crystal
Kotwicki, Haley
Figurski, Brian
Moulden, Rachel
Soltman, Josh
Miner, Deleon
Georges, Salwan
Johnson, Kailey
Lepkowski, Frank J.
Lafountain, Luke
Description
---
The Final Course ; STRIKE A POSE ; thisweek ; PHOTO OF THE WEEK ; Perspectives STAFF EDITORIAL Six dead; 24 in the hospital - the need-to-know about the flu ; Perspectives EDITORIAL My family will 'always be in my heart' ; Student reflects upon her personal experiences with loss and struggles against cancer ; Campus Award keeps MLK's hopes alive ; The Keeper of the Dream scholarship given to five dedicated students ; Grizzlies on the Prowl: "What your biggest 'college kid prob'"? ; POLICE FILES Pedestrians almost struck ; Campus Atheism gains traction ; 500 percent increase on college campuses ; Campus Grizzlies stand up; get down; and give back ; OU students raise money for autisim awarness group ; Chartwells contract set for expiration in 2015 WHERE ELSE CAN CHART WELLS BE FOUND? ; Sports The man; the myth; the mascot ; The story behind OU's 'Pioneer Pete' ; Grizzly alumni reveive golden honor ; OU will induct new batch of former student-athletes into Hall of Honor ; Sports New coach; new horizons ; Women's basketball team has renewed intensity under Tungate leadership ; Breaking away from the pack ; Women's basketball star; Olivia Nash; is humble and hungry ; Life Jazz violinist jams with OU ; Alumna Regina Carter performs with music faculty ; Life Life is hard on the road ; Student's Ford Focus is a hotel room on wheels ; Puzzles ; Life OU's got style: I dream of beanies ; Students stay warm and look trendy in winter weather ; Mouthing Off SATIRE Something does not smell quite right
Date
---
2014-01-22
Subject
---
Food service operations
Keeper of the Dream awards
Atheism
Autism
Hollie L. Lepley Hall of Honor
Pioneer Pete
Oakland University History
Carter, Regina
Fashion
Rights
---
Users assume all responsibility for questions of copyright, invasion of privacy, and rights of publicity that may arise in using reproductions from the library's collections.
Collections
---