The Oakland Post 2013-11-27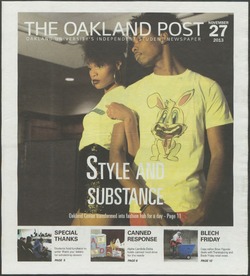 Author
---
Contributor
---
Wolchek, Scott
Johnston, Brian
Pontzer, Timothy
Alsko, Jake
Mathias, Kailee
Peralta, Chris
Brown, LeeAnn
DeRees, Ali
Cesefske, David
Winkler, Katie
Kean, Kaylee
Saulino, Matt
Goodin-Smith, Oona
Searle, Ellen
Parchell, Alexis
Pavkovich, Jennifer
Kotwicki, Haley
Popovski, Natalie
Figurski, Brian
Moulden, Rachel
Miner, Deleon
Davis, Jon
Georges, Salwan
Johnson, Kailey
Chun, Christopher
Lepkowski, Frank J.
Lafountain, Luke
Lepper, Kelsey
Rolstone, Jessah
Description
---
SPECIAL THANKS ; CANNED RESPONSE ; BLECH FRIDAY ; this week PHOTO of the WEEK: CELEBRATING CULTURE ; on the web ; BY THE NUMBERS: Black Friday stats taken from Christian Science Monitor ; Perspectives STAFF EDITORIAL The season of giving (less) is upon us ; Perspectives EDITORIAL Mystery Librarian - the longest tale ; Opening up the mystery of the largest book ever published ; Dog-gone it; take care of your pets ; Pet ownership is more than just providing food and shelter for an animal ; Campus Writing letters of thanks: Scholarship-bound students applaud generous OU donors ; Coming together for autism: Students organize first Fall Festival for Autism awareness ; Campus Tis the season for giving thanks and helping those in need: HCSA and ALD are inviting students to participate in their canned food and sock drive for the Baldwin Center ; Campus Student Profile of the Week: Brooke Will ; Grizzlies on the Prowl: "What's the stupidest thing you've bought?" ; POLICE FILES: Car vandalized in parking lot ; MORE ONLINE ; Campus OU no longer reaching beyond the ordinary: Oakland's ad campaign employs a new catchphrase: Be extraordinary ; What do you think of OU's newest commercial? ; Campus Crossing the globe for class credit: Students study archaeology in Israel; gain 'world-widening' experience ; Sports Skateboarders are back to the grind: The skateboard club finds a new place to ride ; Workin' it on the runway: The Fashion House features local designers; models at fashion show ; Mouthing Off SATIRE
Date
---
2013-11-27
Subject
---
Fashion
Animal welfare
Scholarships
Autism
Student activities
Charity
Marketing
Study abroad
Oakland University. Student Organizations
Rights
---
Users assume all responsibility for questions of copyright, invasion of privacy, and rights of publicity that may arise in using reproductions from the library's collections.
Collections
---