The Oakland Post 2013-10-02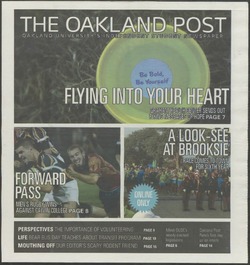 Author
---
Contributor
---
Wolchek, Scott
Johnston, Brian
Craw, Victoria
Alsko, Jake
Mathias, Kailee
Peralta, Chris
Brown, LeeAnn
DeRees, Ali
Cesefske, David
Winkler, Katie
Kean, Kaylee
Saulino, Matt
Searle, Ellen
Marinova, Nadia
Vitale, Nick
Kotwicki, Haley
Moulden, Rachel
Miner, Deleon
Figurski, Brian
Popovski, Natalie
Davis, Jon
Georges, Salwan
Johnson, Kailey
Lepkowski, Frank J.
Lafountain, Luke
Lepper, Kelsey
Rolstone, Jessah
Nolan, Kelsey
Williams, Blake
Owens, Katrina
Description
---
Flying into your heart ; Forward Pass ; A Look-See at Brooksie ; this week ; PHOTO OF THE WEEK ; Perspectives STAFF EDITORIAL Congress act shows unaffordable carelessness ; Perspectives EDITORIAL Changing lives one person at a time ; OUSC President Brandon Hanna reflects on finding himself through helping others in need ; Campus Writing Marathon enables students to get their creative groove back ; Grizzlies on the prowl: "If all the faculty disappeared; what would you do?" ; POLICE FILES Student accused of disorderly conduct in Kresge Library ; Campus New faces bring new ideas to OUSC ; Campus Positive affirmations are flying: The Graham Health Center scatters promotional Frisbees on campus ; Sports OU Rugby Club improves to 2-0: Rubgy Club celebrates recent Sept. 28 win and improves their overall season record ; OU Men's Soccer draws record crowd ; New Grizzly can't wait to get back out there ; Sports Madnezz begins: Weekend of Champions kicks off with athletic competitions and OUSC tailgate ; Life Bear Bus Day gears up buses; educates students on program: Students win prizes; learn about campus transportation ; Life The next leader could be you: Committee designed to select students to lead ; Fashionably grizzly: Fashion show coming to Meadow Brook Hall ; Life Becoming a member of the community ; A total of 48 new faculty members come to campus; hope to continue excellence ; Cartoons & Puzzles OAKLAND POST PETE ; Life A matter of perspective ; Allemons hope to dispell attitudes about dwarfism ; Mouthing Off SATIRE The worst birthday gift: Filthy; disgusting mouse gifts are unwelcomed by the majority of civilization
Date
---
2013-10-02
Subject
---
Graham Health Center
Brooksie Way
Oakland University. Student Congress
Weekend of Champions
Bear Bus
Fashion
Meadow Brook Hall
Personnel changes
Little People of America
Dwarfism
Rights
---
Users assume all responsibility for questions of copyright, invasion of privacy, and rights of publicity that may arise in using reproductions from the library's collections.
Collections
---