The Oakland Post 2013-07-03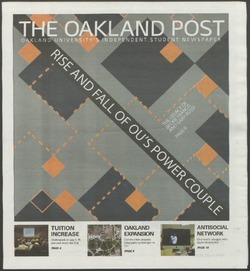 Author
---
Contributor
---
Wolchek, Scott
Dulberg, Dylan
Johnston, Brian
Jordan, Allen
Beaver, Lindsay
Bielman, Colleen
Davis, Jon
Ibrahim, Irum
Graham, Kevin
Mathias, Kailee
Craw, Victoria
Peralta, Chris
Reed, Jordan
Searle, Ellen
Kotwicki, Haley
Lepkowski, Frank J.
Figurski, Brian
Mohler, Ashley
Beitel, Matthew
Lepper, Kelsey
Owens, Katrina
Murray, Brian
Tansley, Ted
Greer, Andrew
Thomas, Rebekah
Williams, Koran
Simmons, Parker
Description
---
Rise and Fall of OU's Power Couple ; this month ; PHOTO OF THE MONTH ; Perspectives STAFF EDITORIAL Honesty is always the best policy; not secrecy. ; Campus Not just small change at OU: University approves tuition increase; appoints Betty J. Youngbloodas interim president ; Campus Swimming lapse at aquatic center ; Fewer parking spots in Fall 2013: Construction brings parking lot closures ; Campus OU is growing by leaps; bounds ; Oakland Center director and Board of Trustees liasons have plans to expand the OC with extra space; entertainment; restaurants will become a reality. ; SUMMER EVENTS ; RUSSI RETIRED AND FRANCIS FIRED ; Campus A university in transition: OU community responds to presidents departure ; Campus Ex-Grizzly roars back at Oakland coach: Jenna Bachrouche says she had to 'pray to play' for Beckie Francis. ; Sports A gentler way to fight ; Oakland's Judo Club places an emphasis on safety and respect ; Life Fine dining on the fairway ; Patti Finnegan's Pub and Grille opens for golfers; community ; Life WEEKLY CROSSWORD ; Entertainment A MONTH AT MEADOW BROOK: Of Monsters and Men; CarlyRae Jepsen; O.A.R; more perform on campus ; Mouthing Off SATIRE The lost art of talking to people in real life ; The Internet makes traditional social interaction a stranger ; SATIRE Smoke and Mirrors
Date
---
2013-07-03
Subject
---
Youngblood, Betty J.
Russi, Gary
Oakland Aquatics Center
Parking
Campus development
Religions
Martial arts
Francis, Beckie
R & S Sharf Golf Course
Rights
---
Users assume all responsibility for questions of copyright, invasion of privacy, and rights of publicity that may arise in using reproductions from the library's collections.
Collections
---