The Oakland Post 1990-01-29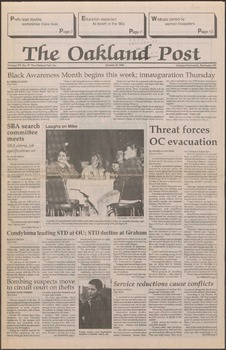 Author
---
Contributor
---
Zito, Carol
O'Brien, Margaret
Michael, Michelle
Moraniec, Marc
Voytas, Tom
Villarosa-Bolton, Lorelei
Simmons, Donna
Stock, Karen
Sears, Tammie
Chiappetta, Nick
Vanderbeke, Patricia
Vanderbeke, Christine
Basham, Matthew
Boone, Kelly
DeBrincat, Gina
Forslund, Bev
Green, Kyle
Goetz, Sharon
Gorski, Wendy
Hogg, David
Johnson, Carolyn
Johnson, Heidi
Koch, Kathryn
Lewis, Derrick
Pelletier, P.J.
Pomaville, Kathy
Schwark, Candi
Sears, Tammie
Sherlock, Rebecca
Sturza, Mary Jo
Taylor, Lisa
Whitcher, Jeff
Surowiec, James
Description
---
Black Awareness Month begins this week; innauguration Thursday ; SBA search committee meets: SB A citeria; job specifications set ; Laughs on Mike ; Threat forces OC evacuation ; Condyloma leading STD at OU; STD decline at Graham ; Bombing suspects move to circuit court on thefts ; Service reductions cause conflicts ; News Briefs Fire a false alarm at Kresge Library ; Student heats up dorm room ; Bang in Dodge ; Parked car raided ; Corrections ; Students; faculty to return to Virginia Beach after violence ; A draining ordeal ; No comment on campus bombs poor decision ; Letters to the Editor Sport teams at OU are competitive ; Thanks to fans for needed cheers ; Jaye's view on liberal dems laughable ; What's Happening a welcome addition ; Black history just as important as other cultures ; Black awareness should involve everyone at OU ; Tips on trips ; Profs double duties ; The 90s: Education; counseling needs excel ; Crossroads breaks racial barriers ; Soft shoe ; Whiz kids ; Q: Holding a picture of president Joseph Champagne; the Post asked... Who is this man? ; Freshmen are hard on drugs; soft on abortion and ready to protest ; QUAYLE KOLLEGE ; What's Happening ; The Weekly Crossword Puzzle ; This Week's Horoscope ; Hang in there Ann ; Women whip Wildcats 72-59 ; Swim teams split with Kenyon; sweep Toronto ; Pioneers wake up; claw past Wildcats 82-74 ; Crowds; college coaches and chili dogs ; Fencers take three events at tournament
Date
---
1990-01-29
Subject
---
Black Awareness Month
Oakland Center
Faculty
Crossroads
Oakland University. School of Education and Human Services
Rights
---
Users assume all responsibility for questions of copyright, invasion of privacy, and rights of publicity that may arise in using reproductions from the library's collections.
Collections
---