The Oakland Post 2013-03-06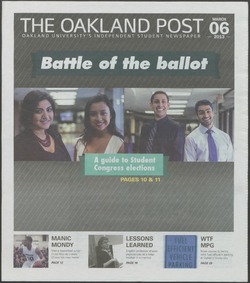 Author
---
Contributor
---
Seguin, Nichole
LaTorre, Clare
Popovski, Natalie
Beaver, Lindsay
Sokol, Stephanie
Williams, Katie
Johnston, Brian
Figurski, Brian
Kotwicki, Haley
Petrykowski, Andrew
Thomas, Devin
Coppola, Lisa
Lepper, Kelsey
Williams, Blake
Holychuk, Jennifer
Dulberg, Dylan
Lepkowski, Frank J.
Lee, Lex
Mathias, Kailee
Reed, Jordan
Coughlin, Shannon
Graham, Kevin
Ibrahim, Irum
Jordan, Allen
Brooks, Bobby
Davis, Jon
Mohler, Ashley
Novak, Monica
Peralta, Chris
Description
---
MANIC MONDY ; LESSONS LEARNED ; WTF MPG ; this week PHOTO OF THE WEEK ; VEST KNOWS BEST ; on the web ; BY THE NUMBERS: SAME-SEX MARRIAGE ; Perspectives STAFF EDITORIAL It's time for change: Make marriage obtainable for all ; Perspectives EDITORIAL Election? More like popularity contest: Student Congress elections work to enhance resumes; not campus life ; EDITORIAL Oakland is full of life lessons - embrace them ; Campus Expanding education ; Oakland enters partnership with Oxford Schools; BCC International ; POLICE FILES: Student reported missing ; Campus Vice Presidential nominees vie for votes ; OUSC holds Vice Presidential Debate; candidates discuss platforms ; MORE ONLINE ; Campus Pushing for a pantry: Group of students hope to create free food program ; FOOD PANTRY FAST FACTS ; Campus Coming together for body and mind: Local studio comes to campus to offer yoga-based therapy ; Campus Compare and contrast: Battling for the ballot ; Sports A case of the Mondys: Leading the nation in steals; Duke Mondy has made Oakland his home ; Sports Golden Grizzlies honored on the ice: Hockey team honored by Great Lakes Collegiate Hockey League ; Local Brewing up something new: Brewery brings unique flavors and beer methods to downtown Lake Orion ; Local Talking 'Twilight': Local actors discuss vampire roles in final movie ; LOCAL ONLINE: Life Hats off to fun; frivolous fashion ; Life Working Within the margins: English professor inspired by working with colleagues to share her memoir ; Puzzles WEEKLY CROSSWORD ; Mouthing Off Fuel-efficient; sense-deficient ; Who exactly are the special parking spots meant to serve?
Date
---
2013-03-06
Subject
---
Community partnerships
Oakland University. Student Congress
Elections
Hunger awareness
Eating disorders
Fencing club
Oakland University. Student Organizations. Club Sports
Men's hockey
Fashion
Faculty
Rights
---
Users assume all responsibility for questions of copyright, invasion of privacy, and rights of publicity that may arise in using reproductions from the library's collections.
Collections
---