The Oakland Post 2013-01-09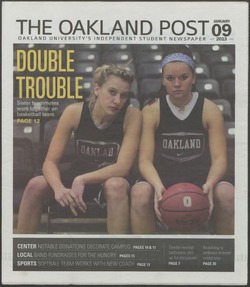 Author
---
Contributor
---
Seguin, Nichole
LaTorre, Clare
Popovski, Natalie
Pontzer, Tim
Williams, Katie
Johnston, Brian
Figurski, Brian
Kotwicki, Haley
Petrykowski, Andrew
Thomas, Devin
Coppola, Lisa
Wickson, Geoff
Holychuk, Jennifer
Dulberg, Dylan
Lepkowski, Frank J.
Lee, Lex
Mayhand, Misha
Sokol, Stephanie
Reed, Jordan
Coughlin, Shannon
Beaver, Lindsay
Graham, Kevin
Blanchette, Sarah
Jordan, Allen
Prewada, Stephanie
Brooks, Bobby
Davis, Jon
Mathias, Kailee
Mohler, Ashley
Phelan, Kaitlyn
Reid, Lilly
Description
---
Double Trouble ; PHOTO OF THE WEEK ; BY THE NUMBERS U.S. GUN USAGE ; POLL OF THE WEEK ; LAST MONTH'S POLL ; THIS WEEK IN HISTORY ; STAFF EDITORIAL A nation in need of gun control ; COLUMN Finding your niche at Oakland University ; Campus Keeping the Bear Bus rolling: Program aims to build 12 shelters next summer; increase ridership ; POLICE FILES: OUPD dispatched to South Foundation for student medical emergency; suspicious bag ; Campus Magnetic attraction: University creates partnership with Avondale District to create lab school ; Campus Group of students continue to push for gender-neutral restrooms ; CAMPUS BRIEFS: International Education; Study Abroad Information ; Campus It's all Greek to me: A guide to sorority and fraternity life on campus ; GREEK LIFE BY THE NUMBERS ; GREEK COUNCIL BREAKDOWN ; DOLLARS & CENTS: Donations fuel OU; but where do they come from - and where do they go? ; Sports Matching jerseys; matching genes: Sisters work together on the women's basketball team ; Sports A Miner change: Experienced leader takes the helm of the softball program ; Sports Golf program signs new talent for 2013-14 season: Recruits boast awards and accomplishments in high school careers ; Local Picking up good donations: Local band Royal Hoax raises money for Rock4Hunger charity ; LOCAL BRIEFS: Food truck rally ; WEEKLY PUZZLES ; Life Helping Honduras for the holidays ; Students spend winter break volunteering in Central America ; Life Suspending disbelief with 'Lies'4/11/2019: 'White's Lies' comes to Meadow Brook Theatre ; THE CAST ; Mouthing Off SATIRE Creeping in the New Year
Date
---
2013-01-09
Subject
---
Bear Bus
Community partnerships
Gender
Gay Straight Alliance
Greek letter societies
Gifts and grants
Fund-raising
Student athletes
Charity
Student activities
Rights
---
Users assume all responsibility for questions of copyright, invasion of privacy, and rights of publicity that may arise in using reproductions from the library's collections.
Collections
---