The Oakland Post 2012-03-07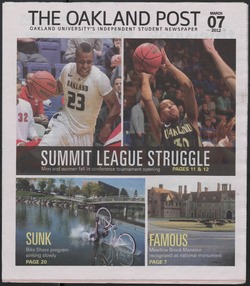 Author
---
Contributor
---
Seguin, Nichole
Semeraz, Megan
Hunton, Sarah
Prewada, Stephanie
Gonzalez, Jordan
Romanchik, Kevin
LaTorre, Clare
Armstrong, Ali
Colman, Justin
Loshaw, Madeline
Thomas, Devin
Haney, Brittany
Harris, Krystal
Yar, Daud
Karpinski, Cayce
Hoque, Rifath
Bistue, Chelsea
Coughlin, Shannon
Lee, Lex
Sokol, Stephanie
Reed, Jordan
Allison, Ashley
Figurski, Brian
Hunton, Sarah
Lauritsen, Chris
Pontzer, Tim
Claucherty, Emma
Dennis, Damien
Graham, Kevin
Everson, Bryan
Blanchette, Sarah
Jones, Tiffany
Mayhand, Misha
McMillan, Mark
Popovski, Natalie
Stricker, Rosie
Description
---
Summit League Struggle ; this week ; PHOTO OF THE WEEK ; BY THE NUMBERS MEADOW BROOK THEATRE ; Perspectives STAFF EDITORIAL For a commuter campus; parking really is a problem ; Perspectives LETTER TO THE EDITOR ; Parking is a real problem ; Athlete conduct at eating awareness events was disappointing ; Perspectives EDITORIAL Religion should be separate from government ; Members of the Republican Party should stop bringing up the issue of religion; politics ; Campus Creator of TOMS shoes to visit campus ; Blake Mycoskie gives shoes; medical attention to needy children ; Campus Meadow Brook Hall receives national landmark recognition ; Recognition makes federal grant more likely for restoration ; Campus Medical students to work with Oakland County specialists ; Hands-on program for students teaches the inner workings of the body and gain autopsies experience ; Campus Symposium to discuss status of equality for women in the world: Pulitzer prize winner featured as keynote speaker ; FILES: Person of interest caught by security camera in Kresge ; Campus Recent theft from Chartwells inside Pioneer Food Court ; Chick-Fil-A sandwich; Naked Juice among stolen items ; Sports The end of the streak ; Grizzlies fall in opening round of the Summit League tournament ; Sports Can't bounce the Roos': Women's basketball team falls to UMKC ; Swimming and Diving gears up for NCAA; Olympic trials ; Program prepares for post-season qualifier events ; Sports THE SPORTING BLITZ ; Golden Grizzlies receive top Summit League honors ; Local Filmmaker goes 'Somewhere West': Filmmakers prepare themselves for a three-day film festival where they are nominated for awards ; LOCAL BRIEFS: "Stuff the Truck" ; Local Preparation for construction already a nuisance in Rochester ; Construction affecting Rochester traffic; businesses ; Life Mozart moves: Pianist; professor joins Varner stage with violinist to play Mozart sonatas ; Professor background ; Life WEEKLY CROSSWORD ; Life Mediterranean and Moroccan food offered under one roof ; REVIEW Local unique and fresh food ; Mouthing Off SATIRE Where are all of the bright pink bicycles?
Date
---
2012-03-07
Subject
---
Meadow Brook Hall
Oakland University. William Beaumont School of Medicine
Community partnerships
Women
Crime
Filmmaking
Rights
---
Users assume all responsibility for questions of copyright, invasion of privacy, and rights of publicity that may arise in using reproductions from the library's collections.
Collections
---