The Oakland Post 1989-12-04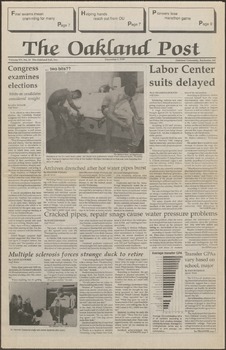 Author
---
Contributor
---
Zito, Carol
O'Brien, Margaret
Michael, Michelle
Moraniec, Marc
Burke, Erin
Villarosa-Bolton, Lorelei
Simmons, Donna
Stock, Karen
Sears, Tammie
Chiappetta, Nick
Vieira-Cosner, Carolyn
Barsh, Bill
Basham, Matthew
Boone, Kelly
Cook, Tom
DeBrincat, Gina
Green, Kyle
Hogg, David
Johnson, Carolyn
Johnson, Heidi
Koch, Kathryn
Kostusyk, Theresa
Lewis, Derrick
Pelletier, P.J.
Pomaville, Kathy
Schwark, Candi
Sherlock, Rebecca
Sneddon, Andy
Taylor, Lisa
Whitcher, Jeff
Surowiec, James
Description
---
Congress examines elections ; Write-in candidates considered tonight ; Multiple sclerosis forces strange duck to retire ; Cracked pipes; repair snags cause water pressure problems ; Archives drenched after hot water pipes burst ; Labor Center suits delayed ; Transfer GPAs vary based on school; major ; Rolling Stone Magazine's Cover Boy Hits Oakland ; SPB ANNOUNCES WINTER SCHEDULE ; YOU MAY HAVE ALREADY BEEN ALLOCATED HUNDREDS OF DOLLARS' SAYS SAB ; SOMETHING'S AMUCK IN BEER LAKE ; SEFFINGER DECLARES INNOCENCE: CEC IS NOT A COMMIE ; News Briefs SATE subnits plan to senate ; Hamlin throws holiday party ; Elections hearing ; Corrections ; Pulling strings ; World changes offer us needed perspective: Final exam and holiday stresses pale in comparison ; OUTLAND ; Letters to the Editor Black Awareness Month planning to begin soon ; Election process needs overhaul ; Check this list twice ; 'Tis the season to be - cramming? ; Strumming ; Students share family festivities ; Tie one on for safety's sake ; Organizations good will to area charities ; Christmas fantasy ; Ten terrific years ; Eagles endure Pioneers; 119-109 ; Swim teams take EMU Invitational: Men qualify 12 for national meet as they edge host school ; MONDAY NIGHT PICKS ; Women struggle past Saginaw in overtime ; He scooorrres! ; Vandenberg residents win Commuter Bowl ; Cheerleading more than a pretty smile ; Hoopsters rally to win ; Hatcher makes first team All-GLIAC ; National Champion Contest
Date
---
1989-12-04
Subject
---
Oakland University. Student Congress
Archives
Kresge Library
Multiple sclerosis
Susskind, Norman
Transfer students
Grade point average
Finals week
Hanukkah
Men's swimming and diving
Football
Commuter bowl
Cheerleading
Volleyball
Hatcher, Holly
Chanukah
Oakland University Archives and Special Collections
Women's swimming and diving
Rights
---
Users assume all responsibility for questions of copyright, invasion of privacy, and rights of publicity that may arise in using reproductions from the library's collections.
Collections
---