The Oakland Post 1989-10-30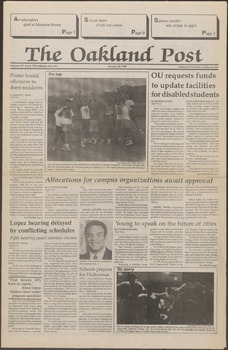 Author
---
Contributor
---
Zito, Carol
O'Brien, Margaret
Michael, Michelle
Moraniec, Marc
Burke, Erin
Villarosa-Bolton, Lorelei
Simmons, Donna
Stock, Karen
Sears, Tammie
Chiappetta, Nick
Vieira-Cosner, Carolyn
Barsh, Bill
Basham, Matthew
Boone, Kelly
DeBrincat, Gina
Green, Kyle
Hogg, David
Johnson, Heidi
Koch, Kathryn
Kostusyk, Theresa
Lewis, Derrick
Pelletier, P.J.
Pomaville, Kathy
Schwark, Candi
Sherlock, Rebecca
Sneddon, Andy
Taylor, Lisa
Surowiec, James
Description
---
Poster found offensive to dorm residents ; On top ; OU requests funds to update facilities for disabled students ; Allocations for campus organizations await approval ; Lopez hearing delayed by conflicting schedules ; Fifth hearing panel member chosen ; Young to speak on the future of cities ; Schools prepare for Halloween ; News Briefs Student arrested for driving OUIL ; Student arrested with fireworks ; Corrections ; Dorm Notes VanWagoner ; All Residence Halls ; We need to say Yes! to Michigan's education future: Vote YES on A and B ; Lecture on King; Malcolm X insulting coming from white profs ; Kleckner's words ring more true than some care to admit ; Letters to the Editor ; Audience's behavior at Bible study deplorable ; Rude audience surprising at Christian forum ; Blood donors needed now ; Test your wits ; Gallery's goal includes education: Meadow Brook Art Gallery displays diverse art ; Vamp's sound mirrors Blondie ; Reflections of activist youth ; Cut up ; WOUX hangs in limbo ; Cadet receives high honor ; Trick or treat ; Pioneers beat Lewis in a laugher 7-0 ; Spikers crush Cardinals; crack Top 20 ; Men's swim team tanks opponents at Bowling Green ; An Oakland A ; Women swimmers deep with talent; experience ; Hoop notes ; Runner Myatt makes most of first year ; Intramural champions crowned ; MONDAY NIGHT PICKS
Date
---
1989-10-30
Subject
---
Disabilities
Oakland University. Student Congress
Young, Andrew, 1932-
Oakland University Art Gallery
Contemporary art
Chinese art
Usui, Kiichi
Hillie, Hosie
Vietnam War
Martin, Dale
ROTC
General dynamics land systems Abrams tank award
Intramural sports
Rights
---
Users assume all responsibility for questions of copyright, invasion of privacy, and rights of publicity that may arise in using reproductions from the library's collections.
Collections
---