The Oakland Post 2010-03-10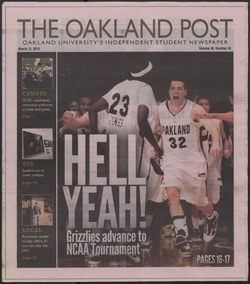 Author
---
Contributor
---
Miller, Colleen J.
Wolf, Katie
Fenner, Dan
Nguyen, Kay
Simons, Dan
Stodola, Annie
Tomrell, Alexis
Chornoby, Kaitlyn
Jacob, Katie
Jackman, Angela
Willis, Jason
Sandula, Mike
Espejo, Mike
Hegedus, Ryan
Jaye, Gabrielle
McCarty, Rory
Rahman, Masudur
Hallman, Zach
Culver, Bryan
Bucciarelli, Jen
Bresnihan, Brigid
Douglas, Reanna
O'Shaughnessy, Christy
Minnix, Shawn
Gasper, Jamie
Ross, Crystal
Umbras, Courtney
Slazinski, Brad
Romanchik, Kevin
Field, Jillian
Lapanowski, Mallory
Lepper, Kelsey Elyse
Meade, Amanda
Nacy, David
St. Germain, Steve
Benjamin, Amanda
Description
---
Hell Yeah! Grizzlies advance to NCAA Tournament ; CAMPUS ; THIS ISSUE ; STAFF EDITORIAL Let's recycle these rags: Spending $42 for cap and gown doesn't fit philosophies at OU ; The feminist education is starting to sink in ; 2010 OUSC ELECTIONS: CANDIDATE MEET & GREET ; 2010 OUSC ELECTIONS CANDIDATE MEET & GREET: TICKET 1 Brandon Gustafson & Amy Ring ; RUSSI WATCH: Keeping track of promises and holding him accountable ; PROMISES MADE ; PROGRESS MADE ; Women's history month kicks off with film festival ; Selected Women's History Month Events ; Text Message Alert System Expanded ; Coffee shop in Kresge Library may be a reality ; Varner to host myriad of spring events ; POLICE FILE ; CAMPUS BRIEFS: Student Program Board to host lock-in event ; Model United Nations team finds success in Toronto ; Faculty awarded NSF Grants for science and technology ; Mary Beth Snyder honored with national award ; Grizz Art brings life to OC ; Micah reflects on campus life ; Club Sports: Do you play? If not; what club sport would you like to play or see at Oakland? ; Game 1 vs No. 8 UMKC 85-70 ; OAKLAND OF CHAMPIONS: Golden Grizzlies win Summit league Tournament; advance to March Madness ; Game 2 vs No. 5IPFW 71-58 ; Arena rock for the indie crowd: L.A. alternative band Silversun Pickups play The Palace March 13 ; music spotlight ; The sounds of spring: A review of upcoming albums JACK JOHNSON; "TO THE SEA" (June 1) ; Man pursues gamer dreams ; Prosecutor: Tell us who's paying Kilpatrick's bill ; Local briefs: community garden; foster care: Royal Oak welcomes Community Garden ; Shootout leaves 2 dead ; Mayor lays groundwork for Detroit downsizing ; Insider's view from the ice: A Golden Grizzly shares his experience from the final game CITIZEN JOURNALIST ; THE SEASON SUM-UP ; THE SPORTING BLITZ: SOFTBALL ; Poor shooting dooms OU: Grizzlies suffer first round defeat in Summit League Tournament ; Toyota's newest problem; time line ; Palin used Canada health care ; N W BRIEFS ; CONDEMNING COSMO ; He said; she said - other reactions; other mags ; Holy crap; robots - a mechanic's take: It turns out a Post copy editor is plotting to take over the world with robots
Date
---
2010-03-10
Subject
---
Men's basketball
Feminism
Oakland University. Student Congress
Russi, Gary
Women's history month
Kresge Library
Art
Oakland Center
Fialka-Feldman, Micah
Oakland University. Student Organizations. Club Sports
Men's hockey
Robotics
Rights
---
Users assume all responsibility for questions of copyright, invasion of privacy, and rights of publicity that may arise in using reproductions from the library's collections.
Collections
---
Related items
Showing items related by title, author, creator and subject.
Oakland Sail, Inc.

(

Oakland Sail, Inc.

,

2002-10-25

)

Metro Detroit job Search: Find a better career in your own backyard

Oakland Sail, Inc.

(

Oakland Sail, Inc.

,

2002-11-08

)

Metro Detroit job Search: Find a better career in your own backyard

Oakland Sail, Inc.

(

Oakland Sail, Inc.

,

2002-11-01

)

Metro Detroit job Search: Find a better career in your own backyard