The Oakland Post 2010-03-03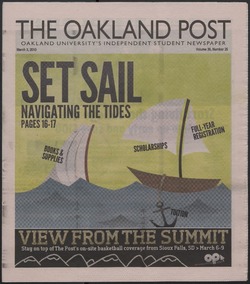 Author
---
Contributor
---
Miller, Colleen J.
Wolf, Katie
Fenner, Dan
Nguyen, Kay
Simons, Dan
Stodola, Annie
Tomrell, Alexis
Chornoby, Kaitlyn
Jacob, Katie
Jackman, Angela
Willis, Jason
Sandula, Mike
Hegedus, Ryan
Jaye, Gabrielle
McCarty, Rory
Rahman, Masudur
Hallman, Zach
Culver, Bryan
Bucciarelli, Jen
Bresnihan, Brigid
Douglas, Reanna
O'Shaughnessy, Christy
Minnix, Shawn
Gasper, Jamie
Ross, Crystal
Umbras, Courtney
Slazinski, Brad
Romanchik, Kevin
Field, Jillian
Lapanowski, Mallory
Lepper, Kelsey Elyse
Meade, Amanda
Nacy, David
St. Germain, Steve
Benjamin, Amanda
Description
---
Set Sail ; Navigating the Tides ; THIS ISSUE ; Perspectives ; STAFF EDITORIAL Save us students a spot ; Board hogs 20 spots all day for short meeting ; There's more to our student liaison than the suit ; Pole dancing heading to the Olympics? ; Letter to the Editor ; OUSC meeting featured Russi Q&A ; Board meeting serves as public forum for many issues ; Students will be able to vote on club sports funding ; SPOTLIGHT ON STUDENT ORGS Alpha Lambda Delta First Year Honor Society ; SAE pres. to shave head ; MBT Productions sure to entertain ; POLICE FILES ; Addict hits 'rock bottom' ; Students predict Academy Award's Best Picture ; The Nominees ; REGISTRATION BEGINS ON MARCH 15 ; CRUISING AHEAD: Students jump on board with planning the upcoming year by choosing classes; finding scholarship money and books ; Gypsies; the new jet setters ; Book "Gypset Style" shadows travel and culture of gypsetters ; BOOK REVIEW ; Google joins the social world: Gmail users stay connected with the new social networking site "Buzz" ; A farewell to OU greats: The regular season ended Saturday with a win on Senior Night ; GOLDEN GRIZZLIES GAME of the WEEK Grizzlies win regular season finale ; SUMMIT LEAGUE TOURNAMENT PREVIEW men's basketball ; SUMMIT LEAGUE TOURNAMENT PREVIEW women's basketball ; Community looks ahead: Rochester Hills hosts Community Outlook Luncheon to examine future possibilities for partnerships; events and businesses ; Local briefs: zoo wins contest; city cuts jobs ; Sam Riddle says he expects to hire own attorney ; 2010 Census distributed ; GM shuffles leaders ; Dem. Dillon joins gubernatorial race ; ODE TO THE OLYMPICS ONE CANADIAN REFLECTS ON THE 2010 VANCOUVER OLYMPIC GAMES ; Toilet tales: Ladies lament on lavatory: From TP to BMs; the bosses at The Post have a few things to say about bathrooms ; The trouble with toilet paper ; Sec. of State brings phones to Chile ; Witnesses in whale attack talk ; N W BRIEFS Source: Associated Press
Date
---
2010-03-03
Subject
---
Russi, Gary
Oakland University. Student Congress
Oakland University. Student Organizations. Club Sports
Greek letter societies
Meadow Brook Theatre
Addiction
Registration
Social media
Rights
---
Users assume all responsibility for questions of copyright, invasion of privacy, and rights of publicity that may arise in using reproductions from the library's collections.
Collections
---