The Oakland Post 2009-12-07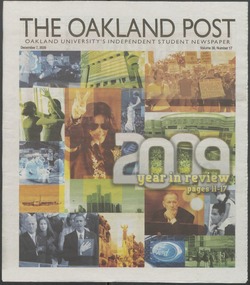 Author
---
Contributor
---
Miller, Colleen
Wolf, Katie
Culver, Bryan
Fenner, Dan
Jackman, Angela
Nguyen, Kay
Simons, Dan
Stodola, Annie
Tomrell, Alexis
Willis, Jason
Jacob, Katie
Lange-Tucker, Donna
Garner, Sean
Hallman, Zach
Hegedus, Ryan
Rahman, Masudur
McCarty, Rory
Sandula, Mike
Wood, Jennifer
Lapanowski, Mallory
Field, Jillian
St. Germain, Steve
Meade, Amanda
Nacy, David
Benjamin, Amanda
Description
---
2009 Year in Review ; THIS ISSUE ; STAFF EDITORIAL Defining the opinion section ; Proud to drive a Toyota: Foreign cars aren't so foreign after all ; Letter from the editor: looking back and looking forward ; RUSSI WATCH: Keeping track of promises and holding him accountable ; PROMISES MADE ; PROGRESS MADE ; Study survey was to see study facilities need ; POLICE FILES YEAR IN REVIEW ; Campus Briefs: Trying to create an within-campus shuttle; Trying to label buildings based en academic units ; Actuarial major delayed ; SPOTLIGHT ON STUDENT ORGS: ethics bowl team ; twenty years ago THE WALL CAME DOWN ; Recalling the feeling of the fall from Romania ; 2009 year in review ; How do you study for final exams? ; What are your plans following finals? ; Curiouser and curiouser! ; Bearable alternatives to holiday radio ; music spotlight ; New zombies release in time for Christmas: "Left 4 Dead 2" promises thrills and kills GAME REVIEW ; MDOT makes salt restrictions ; Tax revenues falling; but not new businesses ; Local news briefs: Bandit in boxers: Police: Man made death threat after Xbox return rebuffed ; New film festival planned for Detroit in March ; Burglar who fled home in boxers; cap pleads guilty ; Man's false 911 call fails to divert police ; Men face dogfighting charges ; NATO troops to bolster U.S. surge in Afghanistan ; N W BRIEFS ; CSU bans guns on campus ; Returning to former glory: Oakland's club hockey team off to a strong start this season ; Pistons fans have reasons for hope ; An '09 whine: WTF; MMIX ; 'Twos weeks before Christmas; and here at OU all the Posties were working on the Year in Review. '09 had its moments; but someone must scoff; a column best suited to run in Mouthing Off.
Date
---
2009-12-07
Subject
---
Kresge Library
Actuarial Science BS
Oakland University. Student Organizations. Club Sports
Men's hockey
Russi, Gary
Rights
---
Users assume all responsibility for questions of copyright, invasion of privacy, and rights of publicity that may arise in using reproductions from the library's collections.
Collections
---