The Oakland Post 1989-10-09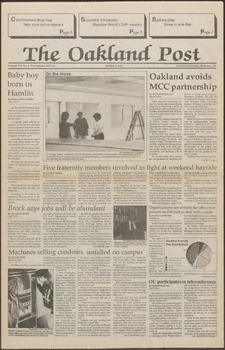 Author
---
Contributor
---
Zito, Carol
O'Brien, Margaret
Michael, Michelle
Moraniec, Marc
Burke, Erin
Villarosa-Bolton, Lorelei
Simmons, Donna
Stock, Karen
Sears, Tammie
Chiappetta, Nick
Vieira-Cosner, Carolyn
Barsh, Bill
Basham, Matthew
Boone, Kelly
DeBrincat, Gina
Green, Kyle
Hogg, David
Johnson, Heidi
Koch, Kathryn
Kostusyk, Theresa
Lewis, Derrick
Pelletier, P.J.
Pomaville, Kathy
Schwark, Candi
Sherlock, Rebecca
Sneddon, Andy
Taylor, Lisa
Surowiec, James
Description
---
Baby boy born in Hamlin ; On the move ; Oakland avoids MCC partnership ; Five fraternity members involved in fight at weekend hayride ; Brock says jobs will be abundant ; Machines selling condoms installed on campus ; Organizations see activity fee allocation process as difficult to deal with; unfair ; OU participates in teleconference ; Dorm Notes ; Condoms finally made available by vending machine ; Letter to the Editor Fencers deserve coverage ; English as official language not fair to deaf ; Outland ; Real job stress ; Abortion drug may save lives ; Prof's study is straight from the heart ; MacGregor professor; composer dead at 92 ; Meadow Brook's season opener delivers zesty comedy ; Three for the road ; What's Happening ; Professional Greeks prepare for real world challenges ; Post season predictions ; Volleyballers work overtime ; Soccer slide continues as Broncos blank Pioneers 2-0 ; Georgia has to find a new higher power ; Monday Night Picks ; Lakers slip past Netters; 5-4
Date
---
1989-10-09
Subject
---
Macomb Community College
Babies
Brock, William Emerson, 1930-2021
Condoms
Teleconferences
Varner Hall
Moudgil, Virinder K.
RU486
Goslin, Brian R.
Inner-city
Health concerns
Thomson, Virgil, 1895-1989
Oakland University. Student Organizations
Anti-gestational drug
Rights
---
Users assume all responsibility for questions of copyright, invasion of privacy, and rights of publicity that may arise in using reproductions from the library's collections.
Collections
---