The Oakland Post 2009-01-21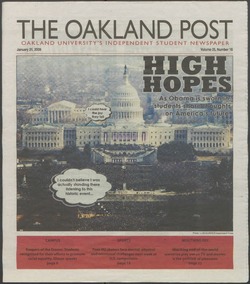 Author
---
Contributor
---
Wojcik, Lindsey
Miller, Colleen
Hug, Brooke
Meade, Amanda
Purcell, Jared
Rahman, Masudur
Rath, Tim
Rowland, Thomas
Jacob, Katie
Garner, Sean
McCarty, Rory
Murphy, Tom, Jr.
Guzman, Joe
Williams, Janice
Quandt, Kathleen
Slazinski, Brad
Gardner, John
Lang, Sarah
Field, Jillian
St. Germain, Steve
Lapanowski, Mallory
Description
---
High Hopes ; THIS WEEK ; STAFF EDITORIAL Don't break our hearts Barack ; CORRECTIONS CORNER ; Banks should help homeless ; Students keeping King's dream alive: MLK Day kicks off OU's African-American Celebration Month ; Kresge Library getting a facelift ; Student groups try to make campus greener together ; Teaming up for research on sports injury ; Profs don clown makeup ; Tiger Stadium may get revamp: Nonprofit group vying to reconstruct partially demolished stadium ; NEWS BRIEFS ; Postal employee stashes 988 letters: A Michigan mail carrier pleads guilty to deserting her route ; Washington; D.C. or bust ; Obama Vision ; The best skate forward: Four students ready to compete in U.S. Skating Championships ; Golden Grizzlies Game of the Week: ICE HOCKEY VS. CENTRAL OKLAHOMA Pikunas; power play contribute for a win ; If you don't like being opponents; join 'em: Maynard and Cushingberry reflect on being high school foes and college teammates ; New sports bar 'scores' ; Copious actress shows variety ; Doomsday destruction: Asteroids; super volcanoes; plague. Oh my! How are we going to die? ; Barack Obama swears into office ; NEW BRIEFS ; Doing 40 mph on a slippery slope ; Five more dead and 2 injured in Iraq bombings ; Hamas declares victory Gaza rallies
Date
---
2009-01-21
Subject
---
Martin Luther King Jr. Day observance
Kresge Library
Renovations
Athletics
Rights
---
Users assume all responsibility for questions of copyright, invasion of privacy, and rights of publicity that may arise in using reproductions from the library's collections.
Collections
---